Product News: Cleaning Products & Equipment
Electric Pressure Washers produce flow rates of 7.6 lpm.
Press Release Summary: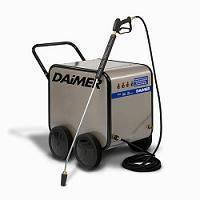 September 13, 2011 - Wheel-mounted for portability, Vapor-Flo® 7940 Pressure Washers are powered by 4.0 hp motor and are capable of high-pressure cleaning to 2,175 psi with cold water or hot water up to 79.4°C. Units are housed in powder-coated steel and designed to work with 50 Hz, 3-phase, 440 V electrical environments. Exhaust-canceling design makes washers suited for applications in food and beverage operations, hospitality, casinos, and nursing homes.
Original Press Release
150 Bar Electric Pressure Washers Produce Flow Rates of 7.6 LPM
Press release date: September 12, 2011
WOBURN, MA, U.S.A. - Daimer Industries, Inc., a primary provider of janitorial grade electric pressure washers, has announced the specifications for its new Vapor-Flo® 7940, the fourth model in the all new, fully electric Vapor-Flo® 7900 equipment series. The 7940 electric systems are sold wheel-mounted for full portability. The systems are powered by heavy duty 4.0 Horse Power, 440V motors. Each of the new machines is capable of flow rates to 7.6 LPM, high pressure cleaning to 150 bar (or 2175 psi), and heated water temperatures to 79.4°C. (The electric machines also can clean with pressurized cold water.) "Our 7940 electric pressure washers support a rather unique blend of water flow, high pressure level and moderate temperature," announced Daimer.com's marketing executive for Vapor-Flo® Matthew Baratta. "The most attractive feature for our commercial customers is that these systems deliver all that performance with minimized noise without dangerous fumes." More Powerful Electric Pressure Washers
Daimer®'s new Vapor-Flo® 7900 systems line includes a total of 8 units, including some with temperatures approaching 96.1°C and 10.2 LPM flow rates. (For example, the 7930 offers this temperature level with slightly lower flow and pressure.) The electric pressure washers in Daimer®'s new 7940 series are housed in steel that has been powder coated for maximum durability and safety. These machines are manufactured to work with 50 Hz, 3 phase, 440-volt electrical environments. The power washers sport an exhaust-cancelling design approved for applications in food and beverage operations, hospitality, casinos and even nursing homes. Other units in the 7900 line include the 7910 and 7920. For additional information about Daimer® electric pressure washers, commercial pressure washers, hot water pressure washer systems as well as carpet and upholstery cleaners, visit
www.daimer.com/pressure-washers/
or call Matthew Baratta at (888) 507-2220. Super Max(TM) electric pressure washers are available to customers in most countries. About Daimer Industries, Inc.®: Daimer®,
www.daimer.com
, is a major supplier and worldwide exporter of the cleaning industry's leading line of KleenJet® steam cleaners/vapor steam cleaners/steam cleaning equipment; Super Max(TM) commercial and industrial pressure washers, including cold water, hot water, and steam pressure washing equipment; and XTreme Power® floor cleaners, including carpet cleaners and hard surface cleaners. Contact:
Matthew Baratta, Daimer Industries, Inc.®
16 Tower Office Park
Woburn, MA 01801
www.daimer.com
/electric-pressure-washers/
matt@daimer.com
(888) 507-2220