Product News: Materials & Material Processing
Dual-Shaft Mixer offers working capacity of 10-30 gallons.
Press Release Summary: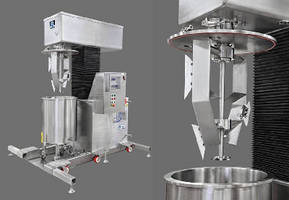 November 20, 2012 - Mounted on stainless steel support frame with locking casters for portability, Model CDA-30C features air/oil hydraulic lift that raises and lowers agitators, 3 hp two-wing anchor, and 5 hp disperser. Each agitator is independently controlled, enabling fine-tuning of shear levels and flow patterns over wide viscosity range. To ensure optimal heat transfer, hinged Teflon scrapers are attached to wings of anchor agitator for wiping sidewalls and cone-shaped vessel bottom.
Charles Ross & Son Co. - Hauppauge, NY
Original Press Release
New Ross Model CDA-30C Dual-Shaft Mixer
Press release date: November 19, 2012
Hauppauge, NY, – Ross introduces the new Model CDA-30C Portable Dual Shaft Mixer with a working capacity of 10 to 30 gallons. An air/oil hydraulic lift raises and lowers the agitators, a 3HP Two-Wing Anchor and a 5HP High Speed Disperser. Because each agitator is independently controlled, the system is extremely versatile in terms of fine-tuning shear levels and flow patterns over a wide viscosity range. Typical applications include pastes, gels, suspensions, slurries and other viscous dispersions.

The vacuum-rated mix can is jacketed for heating and cooling purposes. To ensure superior heat transfer, hinged Teflon scrapers are attached to the wings of the anchor agitator for wiping the sidewalls and cone-shaped vessel bottom. A Type J thermoprobe installed on the mixer cover extends to the center of the batch for highly accurate temperature monitoring. Temperature, speeds, vacuum level and other readouts are located in the NEMA 4X Purged Operator Control Panel. The CDA-30C is mounted on a stainless steel support frame with locking casters designed for complete portability and stability when in use.

To request a quotation or to speak with a Ross mixing specialist about your application, call 1-800-243-ROSS(7677).

Contact Info:
Bill Alhofen, Sales Manager
Charles Ross & Son Company
710 Old Willets Path
Hauppauge, NY
P: 1-800-243-ROSS
E: sales@mixers.com
W: www.mixers.com