Product News: Sensors Monitors & Transducers
Dual-Axis Slope Sensor featuring MEMS technology.
Press Release Summary: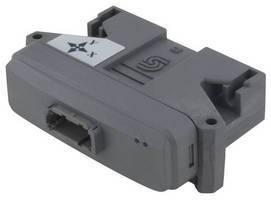 August 5, 2013 - PLUS+1™-compliant CSS1000 intelligently cancels out transverse machine motion to provide precise, fast-responding, stable slope signal. For each axis, CAN 2.0 B-compliant and IP67-rated sensor features MEMS-based accelerometer to measure angle with respect to gravity as well as MEMS gyroscope to measure acceleration around axis. Each axis has operation range of ±12.5° (±22% slope). Other features include 12-pin Deutsch® DTM connector, 9–36 Vdc power supply range, and CE compliance.
Danfoss Power Solutions Co. - Ames, IA
Original Press Release
Sauer-Danfoss CSS1000 Slope Sensor Delivers Superior Slope Signal
Press release date: July 30, 2013
Dual-axis, CAN-based sensor utilizes MEMS technology, outperforms accelerometer-only solutions
AMES, Iowa,USA, – Sauer-Danfoss Inc. (NYSE:SHS)
Sauer-Danfossis pleased to announce the PLUS+1TM-compliant CSS1000 slope sensor, a dual-axisslope sensor featuring state-of-the-art MEMS (Micro-Electro-Mechanical-System) technology. The CAN 2.0 B-compliant device intelligently cancels out transverse machine motion to provide a high-precision, fast-responding and stable slope signal. SAE J1939 or Sauer-Danfoss proprietary CAN protocols are supported.
For each axis, the CSS1000 slope sensor features not only a MEMS-based accelerometer to measure angle with respect to gravity, but also a MEMSgyroscope to measure acceleration around the axis.The use of robust MEMS sensing technology combined with advanced signal processing produces an output that remains accurate in a dynamic off-highway environment. Each axis has an operation range of ± 12.5 degrees (± 22 percent slope), and an extended-range version of the device is in development.
"There is a growing need for CAN-based sensing devices that provide an accurate slope signal," said Dale Wraspir, Product Application Engineer at Sauer-Danfoss. "The CSS1000 slope sensor offers OEMs superior machine control when compared to accelerometer-only solutions. Sauer-Danfoss has always been an industry leader in developing slope-sensing technology, and this latest product evolution enhances our product offering and performance of OEM vehicle control."
Engineered to meet the harsh operating requirements of mobile machine management applications, the IP 67-rated CSS1000 is ideal for applications such as: concrete pavers, asphalt pavers, curb and gutter machines, tiling/trenching machines, pile-driving machines, railroad maintenance, profilers/mills, platform leveling, bucket leveling, angle sensing and tilt alarm.
As an element of the flexible, powerful, expandable and affordable Sauer-DanfossPLUS+1 family of mobile machine management products, the CSS1000 device can be easily integrated into a control system developed inPLUS+1 GUIDE (Graphical User Integrated Development Environment). Sensor tuning parameters can be set via the GUIDE PLUS+1 Service Tool. Standard PLUS+1 housing offers a proven design and multiple mounting options.
"Like all of ourPLUS+1 mobile machine management solutions, the CSS1000 slope sensor reduces development time and accelerates time to market," Wraspir said.
Additional key features of the CSS1000 slope sensor include:
• 12-pin Deutsch® DTM connector
• 9 to 36 Vdc power supply range
• CE-compliant
About Sauer-Danfoss
Sauer-Danfoss Inc. is a worldwide leader in the design, manufacture, and sale of engineered hydraulic and electronic systems and components for use primarily in applications of mobile equipment. Sauer-Danfoss, with 2012 revenues of approximately $1.9 billion, has sales, manufacturing, and engineering capabilities in Europe, the Americas, and the Asia-Pacific region.
More details online at
www.sauer-danfoss.com
For technical issues:
Dale Wraspir   Sauer-Danfoss   Phone: +1 763-509-2069
Product Application Engineer Plymouth, Minn., USA 
dwraspir@sauer-danfoss.com
For media information and photos:
Americas:
Angela Strotman    Sauer-Danfoss    Phone: +1 515-956-5285
Ames, Iowa, USA  
astrotman@sauer-danfoss.com