Product News: Sensors Monitors & Transducers
Disinfectant Monitoring System measures chlorine dioxide.
Press Release Summary: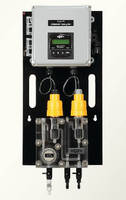 January 13, 2014 - Combining amperometric sensing technology, clear flow cell, flow regulator, sensors, filter, and variable area flow indicator, Signet 4632 Chlorine Dioxide Analyzer System accurately measures chlorine dioxide levels up to 2 ppm/mg/L in water treatment applications. Reagent-free system features pre-wired electronics, 120 Vac power plug, two 4–20 mA outputs, and 2 dry contact mechanical relays. To prevent chemical dosing when flow is shut off, flow switch can be added.
Georg Fischer Piping Systems - Irvine, CA
Original Press Release
GF Piping Systems Introduces Disinfectant Monitoring System for Accurate Chlorine Dioxide Measurement
Press release date: January 9, 2014
TUSTIN, Calif. — GF Piping Systems has introduced the reagent free Signet 4632 Chlorine Dioxide Analyzer System to augment the company's growing line of measurement and control products for disinfectant monitoring. 
The new system features amperometric sensing technology, a clear flow cell, flow regulator, sensors, filter and variable area flow indicator all in one compact unit.  The fully integrated system provides a turnkey solution for accurately measuring residual Chlorine Dioxide levels up to 2 ppm/mg/l in a variety of water treatment applications.  Typical uses include water distribution, cooling towers, fruit and vegetable washing, hospital/healthcare facilities, wastewater odor control, food and beverage processing, and UPW treatment.
Key features of the new device consist of pre-wired electronics, a 120 VAC power plug, two 4 to 20 mA outputs and two dry contact mechanical relays.  The plug and play analyzer also provides a convenient visual indication of flow monitoring and allows for quick disconnect for the inlet port.
In conjunction with the new analyzer, GF Piping Systems is also introducing a convenient flow switch kit that is easily installed into the Chlorine Dioxide Analyzer.  The flow switch prevents chemical dosing when the flow is shut off by interrupting the transmitter's mechanical relays.
Other features of the unique flow cell design is the built-in flow regulator that automatically controls the flow stream vertically across the sensors' membrane.  This results in reduced bubbles for improved system accuracy and allows for a wide range of inlet pressures from 15 to 120 psi (1 to 8 bar), all the while maintaining constant flow and minimal pressure to the sensors.  The flow cell is also designed to maintain a minimum amount of water to ensure sensors stay submerged, even when the system and flow are turnedoff.
About GF Piping Systems
GF Piping Systems supplies a full range of plastic pipe, fittings, valves, actuators, rotameters, fusion machines, secondary containment, heat exchangers, custom products, and sensors and instrumentation for industrial process control.  For further information, please contact GF Piping Systems, 2882 Dow Ave., Tustin, CA 92780-7258; Toll Free (800) 854-4090, Fax (714) 731-6923; e-mail:
us.ps@georgfischer.com
; Web:
www.gfpiping.com
All trademarks are the property of their respective companies