Product News: Sensors, Monitors & Transducers
Digital Radiation Meter is designed for portability, sensitivity.
Press Release Summary: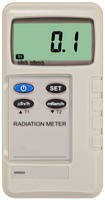 November 15, 2012 - Using Geiger-Muller tube detector for scanning lab work areas and clothing for traces of radioactivity after cleanup, 5 ½ x 2 7/8 x 1 ½ in. Model 840024 emits chirping sound with each count that increases with radiation intensity. Adjustable auto power off can be disabled, and 95 dB audible alarm can be set at any point within meter's ranges of 0.1–199.9 uSv/hr and 0.1–19.99 mRem/hr. Accuracy is ±15%, and energy response is 30 K eV to 1.5M eV for beta, gamma, and X ray radiation.
RWC Testing & Lab Supplies - El Paso, TX
Original Press Release
Digital Radiation Meter with Certificate of Compliance Model 840024
Press release date: November 1, 2012
Small and light enough to go anywhere, yet sensitive enough to detect minuscule amounts of gamma, beta or X-rays.

Uses a Geiger-Muller tube detector for scanning lab work areas and clothing for traces of radioactivity after clean up.

Operation is simple enough for use in science education.  Also excellent for emergency responders, mining, Hazmat or any area of potential radiation exposure. The meter emits a chirping sound with each count that increases with radiation intensity.  A loud 95dB audible alarm can be set at any point within the meter's range.  Adjustable auto power off prolongs battery life and can also be disabled.  The 9-volt battery lasts 50 hours at normal background levels.  Indicates when the battery is low or the reading is over range. Each unit comes in a soft carrying case with a battery and a certificate of compliance indicating that it has been tested in a Cs-137 field for two points of linearity and overall operation.

Dimensions: 5 ½" x 2 7/8" x 1 ½"            Weight:  8 oz.

Specifications

Range: 0.1 – 199.9 uSv/hr
0.1 – 19.99 mRem/hr
Accuracy: ±15%
Energy Response: 30KeV – 1.5MeV beta, gamma and X ray radiation

For additional information, write to:
RWC Testing Lab Supplies
1821 N. Zaragoza Rd. PMB 640
El Paso TX 79936
Phone:  915-852-3375  Fax:  915-852-4084
Email: customerservice@rwctesting.com
Website: www.rwctesting.com/Store