Product News: Sensors Monitors & Transducers
Digital Barometric Pressure Sensor measures 3 x 3 x 0.9 mm.
Press Release Summary: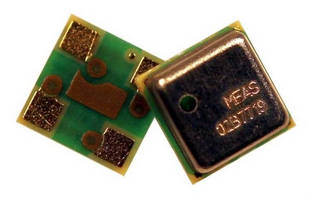 February 26, 2013 - Consuming 0.6 μA during operation and less than 0.15 μA during standby, MS5637-02BA03 micro altimeter requires 4 pads for operation and uses I²C communication. At max resolution of 0.016 mBar, equivalent to 13 cm of elevation, this 24-bit DS ADC integrated digital pressure sensor has accuracy of ±2 mBar at 25°C for 300–1,200 mBar range and temperatures from -20 to +85°C. Module also includes temperature measurement capabilities, with accuracy of ±2.0°C and resolution of less than 0.01°C.
Original Press Release
MS5637-02BA03 Digital Barometric Pressure Sensor Module
Press release date: February 22, 2013
Measurement Specialties, Inc. (NASDAQ: MEAS) has just released to production its new MS5637-02BA03 digital barometric pressure sensor module. This ultra-compact 3x3x0.9mm micro altimeter requires only 4 large pads for operation and uses I2C communication. At a highest resolution of 0.016mBar, equivalent to 13cm of elevation, this 24-bit DS ADC integrated digital pressure sensor has a pressure accuracy of ±2mBar at 25°C for pressure ranging from 300 to 1200mBar and temperature from -20 to +85°C. The pressure sensor module also includes temperature measurement capabilities with a temperature accuracy of ±2.0°C and temperature resolution less than 0.01°C.
Operating at a low current consumption of 0.6μA (standby <0.15μA) at 1.5 – 3.6V supply voltage, it boasts a fast conversion time down to 0.5ms with an oversampling selection available up to 8192. The MS5637-02BA03 has the best resolution, highest pressure accuracy, lowest power consumption and smallest package size within its market. This digital barometric pressure sensor is ideal for high volume OEM portable or battery-operated devices such as smart-phones, tablet PCs and personal navigation devices where size is of primary concern.
Measurement Specialties, Inc. designs and manufactures sensors and sensor-based systems. The company produces a wide variety of sensors and transducers to measure precise ranges of physical characteristics such as pressure, force, vibration, torque, position, temperature, humidity, fluid properties, mass air flow and photo optics. Measurement Specialties uses multiple advanced technologies – including piezo-resistive, electro-optic, electro-magnetic, variable reluctance, magneto resistive, digital encoders, thermistors, thermocouples, RTDs, capacitive, resonant beam, application specific integrated circuits (ASICs), micro-electromechanical systems (MEMS), piezoelectric polymers and strain gauges to engineer sensors that operate accurately and cost-effectively in customers' applications.
For more information about Measurement Specialties and our products, e-mail pfg.cs.amer@meas-spec.com or visit us at
www.meas-spec.com
.