Product News: Electrical Equipment & Systems
DC-DC Converters meet third edition medical safety standard.
Press Release Summary: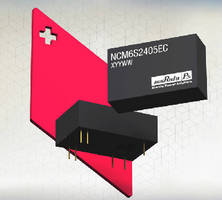 April 29, 2014 - Accommodating 4:1 input, NCM6 Series comes in 3 nominal input voltage ranges of 5 Vdc (4.5–9 Vdc), 12 Vdc (9–36 Vdc), and 48 Vdc (18–75 Vdc). Each variant offers 7 output voltage models. Four single output versions deliver +3.3, +5, +12, or +15 Vdc, while 3 dual output models provide ±5, ±12, or ±15 Vdc. Housed in 20.0 x 32.0 x 10.75 mm package, 6 W encapsulated converters operate from -40 to +85°C with input undervoltage lockout feature and input to output isolation of 5,200 Vdc.
Murata Power Solutions - Mansfield, MA
Original Press Release
6 Watt Encapsulated DC-DC Converter with 4:1 Input Range Meets 3rd Edition Medical Safety Standard
Press release date: April 1, 2014
Hoofddorp, Netherlands: Murata today announced the NCM6 series of isolated 6 Watt single and dual output DC/DC converters from Murata Power Solutions. Accommodating up to an ultra wide 4:1 input range, these DC-DC converters are available in three nominal input voltage ranges of either 5 VDC input (4.5 – 9 VDC 2:1 range), 12 VDC (9 – 36 VDC 4:1 range) or 48 VDC (18 – 75 VDC 4:1 range). Each nominal input voltage variant offers seven output voltage models. Four of these are single output versions with +3.3, +5, +12 or +15 VDC output. Three dual output models provide +5, +12 or +15 VDC output options. Recognition of certification to international safety standards UL60950 for IT equipment and 3rd edition medical safety standard UL60601 for 2 MOOP is pending.
The DC/DC converters are encapsulated in order to achieve high levels of thermal performance and are housed in an industry standard package measuring 20.0 x 32.0 x 10.75 mm. The operating temperature range is from – 40 to +85 degrees C and the device is protected against damage due to excess operating temperatures. An input undervoltage lockout feature protects the output should the input voltage fall below specified limits. Input to output isolation is 5200 VDC.
For further information and reader enquiries:
Aya Tonooka
Murata Europe Limited
Oak House, Ancells Road
Ancells Business Park
Fleet, Hampshire  GU51 2QW
United Kingdom
Tel: +44 (0) 1252 811666 
E-mail:
atonooka@murata.co.uk
Fax:  +44 (0) 1252 811777 
Web:
www.murata.eu
About Murata
Murata is a leading manufacturer of electronic components, modules, and devices. The complete range of this Technology house includes ceramic capacitors, resistors/thermistors, inductors/chokes, ceramic resonators, buzzers, sensors and EMI suppression filters. Whilst the company gets the majority of its revenue from its ceramic capacitor products, it is also the world leader in Bluetooth® & WiFi™ Modules,   the world's no.1 manufacturer of board-mount DC-DC converters and is a key manufacturer of standard and custom AC-DC power supplies. Murata also designs and manufactures mobile handset antenna families, piezoelectric actuators for fuel injection systems and short focal length ceramic lenses.
Established in 1944, Murata is headquartered in Japan and has European offices in Germany, the Netherlands, the UK, Switzerland, Italy, France, Spain, Finland and Hungary.
For more information on Murata, please visit:
www.murata.eu
. You can also follow us on Twitter @MurataEurope or LinkedIn
http://www.linkedin.com/company/murata-electronics
,  or join us on Facebook at
http://www.facebook.com/MurataElectronics
.