Product News: Electrical Equipment & Systems
DC-DC Converter IC configures voltage output to match load.
Press Release Summary: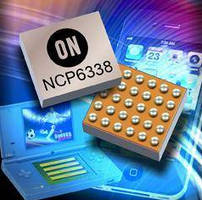 November 19, 2012 - Using modular output strength drive combined with automatic PWM and PFM, Model NCP6338 can adapt efficiency performance to load profile and save battery life in smartphones and tablets. Step-down converter has programmable output voltage from 0.6–1.4 V in mV increments while operating down to input voltage of 2.3 V. Offered in 2.06 x 2.46 x 0.6 mm CSP-30 RoHS-compliant package, 6 A device operates at 3 MHz switching frequency with large selection of output L-C filters.
Original Press Release
ON Semiconductor Introduces a New Integrated DC-DC Converter for Graphic and Core Processor Applications in Portable Electronics
Press release date: November 5, 2012
Sophisticated new device accurately configures voltage output to match latest multi-core load requirements in next generation smartphones and tablets.

PHOENIX, Ariz. – ON Semiconductor (Nasdaq: ONNN), a premier supplier of high performance silicon solutions for energy efficient electronics, addresses the growing need for higher power densities in portable consumer electronics designs with the introduction of the NCP6338, a configurable, 6 Ampere (A) step down DC-DC converter integrated circuit (IC).

"All the functionality integrated into the NCP6338 eliminates the need for additional power components that would normally be required, thereby reducing the overall bill-of-materials, conserving board space and simplifying the design process," said Thibault Kassir, director of ON Semiconductor's Interface and Power IC products. "The NCP6338 configures its output voltage for the actual load thereby optimizing efficiency to ensure battery power is not needlessly wasted. And, by meeting the latest load transient requirements for multi-core Application Processors this converter enables smartphones to match portable game consoles in performance and graphics quality."

Features and Benefits
The NCP6338 has a programmable output voltage range from 0.6 volts (V) to 1.4 V in 6.25 millivolt (mV) increments while operating down to an input voltage of 2.3 V. It is optimized to supply power to    advanced applications processors for portable devices, such as tablets and smartphones.. Using a unique modular output strength drive combined with automatic pulse-width modulation (PWM) and pulse-frequency modulation (PFM), the device can adapt its efficiency performance to the load profile and thus save battery life. Operating modes and output voltage can be set through an I²C serial interface while several combinations can be I/O pin selected for latency free control.

Operating at a 3 megahertz (MHz) switching frequency with a large possible selection of output L-C filters, the design engineer can achieve high regulation performance in a small area; for instance sustaining a 3 A load transient in a window of +/- 40 mV. This is made possible by output voltage differential sensing combined with the high performance core which regulates to within +/- 1% across the entire temperature, load and input voltage ranges.

Packaging and Pricing
The NCP6338 is offered in a compact 2.06 mm x 2.46 mm x 0.6 mm CSP-30 RoHS-compliant package and priced at $1.05 per unit in 10,000 unit quantities.

About ON Semiconductor
ON Semiconductor (Nasdaq: ONNN) is a premier supplier of high performance silicon solutions for energy efficient electronics. The company's broad portfolio of power and signal management, logic, discrete and custom devices helps customers efficiently solve their design challenges in automotive, communications, computing, consumer, industrial, LED lighting, medical, military/aerospace and power applications. ON Semiconductor operates a world-class, value-added supply chain and a network of manufacturing facilities, sales offices and design centers in key markets throughout North America, Europe, and the Asia Pacific regions. For more information, visit http://www.onsemi.com.

ON Semiconductor and the ON Semiconductor logo are registered trademarks of Semiconductor Components Industries, LLC. All other brand and product names appearing in this document are registered trademarks or trademarks of their respective holders. Although the company references its Web site in this news release, such information on the Web site is not to be incorporated herein.

Contacts

Sarah Rockey
Media Relations
ON Semiconductor
(602) 244-5910
sarah.rockey@onsemi.com