Product News: Machinery & Machining Tools
Cut-Off Wheel features true 1 mm thickness.
Press Release Summary: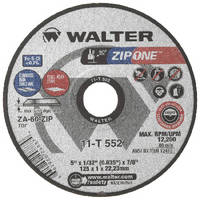 January 18, 2013 - Designed for cutting metal thinner than gauge 14 or 5/64 in. thick, ZIP ONE consists of specially reinforced disc bonded with proprietary mix of abrasives that deliver cool cutting, and technology that enables optimal grit distribution throughout disc. Tool allows extremely precise cuts, without vibration and with low friction. Manufactured with iron-free mix, wheel is guaranteed not to contaminate stainless steel. 
Walter Surface Technologies - Windsor, CT
Original Press Release
Walter Surface Technologies Launches ZIP ONE World's Highest Performance Extra Thin 1mm Cut-off Wheel
Press release date: January 15, 2013
Montreal, – Walter Surface Technologies (WST), a world leader in surface treatment technologies, is pleased to announce ZIP ONE, the highest performance extra thin cut-off wheel on the market. "Many of our clients have been asking us for a thinner version of our current leading cutting wheels. Our engineers and product developers have succeeded in making a world breakthrough: an extra thin 1mm wheel that lasts. We have made it down to 1 mm, with a very resistant, high quality and cost-effective disc. We are very proud of this technical achievement,'' says  Pierre Somers, Chairman and CEO of Walter Surface Technologies International.

Technical innovation in bonded abrasives
Designed for cutting thin gauge metal, ZIP ONE is a specially-reinforced disc bonded with a unique, proprietary mix of high performance abrasives that deliver extra cool cutting. A new technology enables an optimal grit distribution throughout the disc. Until now, good performance cutting wheels claimed to be 1 mm in thickness, but actually measured closer to the range of 1.4 to 1.7 mm. ZIP ONE is the first wheel on the market with a true 1 mm (1/32") thickness that can last much more than only a few cuts.

ZIP ONE offers the highest quality cutting on the market. This ultra-fast tool allows extremely precise cuts, without vibrations and very low friction. High speed cutting also avoids discoloration on cuts and reduces post-cut finishing, such as burr removal. Manufactured with an iron-free mix, ZIP ONE is guaranteed not to contaminate stainless steel. The ZIP ONE wheel has a significantly longer life span compared to other true 1mm thin wheels, offering more cuts per wheel and the lowest price per cut.

ZIP ONE is ideal for several industrial applications and sectors that work with thin metal sheets (thinner than gauge 14 or 5/64'' thickness), including:

• Kitchen / Pharmaceutical equipment manufacturer
• Custom stainless steel shop
• HVAC / Plumbing / Electrical
• Architectural manufacturer
• Elevators & conveyors
• Thermocouples / Thin wall tubing manufacturers
• Aerospace / Transportation
• Body shops
• Sign manufacturing / Shop displays
• Air / Water filter manufacturers

ZIP ONE iswill be available in the US and Canada as of January, 2013.

About WALTER – 60 years of success, and beyond
Walter Surface Technologies has grown as a leader in surface treatment technologies for more than 60 years providing high productivity abrasives, power tools, tooling, chemical tools and environmental solutions for the metal working industry. Founded in Montreal in 1952, the company is now established in 7 countries throughout North America, South America and Europe. International headquarters are sited in Montreal and US headquarters are located in Windsor, Connecticut.

For more information www.walter.com