Product News: Portable Tools
Cordless Drills include Rapid Max(TM) twin charger.
Press Release Summary: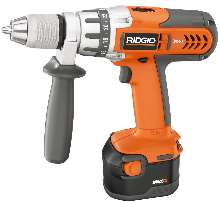 October 23, 2003 - Available in 12, 14.4, and 18 V models, X2 series ½ in. cordless drills are equipped with 2-speed transmission for rates of 400/1,600 rpm or 450/1,600 rpm. With max torque levels from 365-485 lb-in., drills have auxiliary handles for increased control and handling. They come with 2 Max HC(TM) high capacity battery packs, 24-position clutch, and single-sleeve locking chuck with carbide jaws and auto spindle lock.
Original Press Release
New Line of 1/2 Cordless Drills from Ridgid® Delivers Maximum Torque, Superior Charging System
Press release date: October 21, 2003
All the power and runtime professionals will ever need
(Elyria, Ohio) RIDGID® introduces its new X2 series of 1/2" Cordless Drills, developed to provide professionals with exceptional torque and runtime for tackling the most demanding tasks. The new X2 line of 12-volt (Model R82015), 14.4-volt (Model R83015) and 18-volt (Model R84015) drills, features the fastest and most versatile battery charging system on the market.
RIDGID's X2 cordless drills are equipped with a two-speed transmission (400/1600 RPM) that produces enough torque to even make drilling stubborn lag bolts into wet timber an achievable task. With max torque levels ranging from 365 in-lbs for the 12-volt to 485 in-lbs for the 18-volt model, the new drills are worthy of their auxiliary handles, which allow the user greater control and more comfortable handling.
Each X2 drill comes with two Max HC(TM) high capacity battery packs and a Rapid Max Twin(TM) charger as standard accessories. Featuring a fan to cool the batteries, RIDGID's dual port charger is capable of charging two Max HCTM packs at the same time, in only thirty minutes.
"Professionals want endless power. By providing a dual-port charger plus two battery packs, RIDGID's new X2 line meets this demand head on," said Jeff Drake, spokesperson for RIDGID. "The battery charging system is just one example of how RIDGID power tools can help professionals maximize their productivity. They'll never run out of power!"
Offering great versatility, the Rapid Max(TM) twin charger is compatible with any RIDGID battery pack, regardless of voltage. The charger accommodates not only Max HC(TM) batteries, but also standard batteries from RIDGID's compact cordless drills. The unit can charge two standard batteries in just twenty minutes.
The new X2 drills' other features include a 24-position clutch, as well as a single-sleeve locking chuck with carbide jaws to hold bits securely. The chuck also has an auto spindle lock for fast, one-handed bit changes.
Adding further convenience are the drills' self-ejecting battery packs. The user simply presses buttons on either side of the pack, and it slides into his/her hand.
To protect both the drill and work surfaces, RIDGID has placed soft yet resilient overmold on the die-cast clutch ring, handle, and other points of impact, in case the tool falls or is set on fine wood. In addition, the X2 line features four-piece housings, which also contribute to the drills' durability.
RIDGID® power tools are designed to serve the needs of professional contractors and woodworkers, who demand maximum power and superior durability. Packed with high-performance features, RIDGID power tools enhance productivity, enabling professionals to accomplish work more quickly, accurately and with less effort. Robust materials and rigorous engineering maximize the tools' power, heighten user comfort, and promote longer tool life. RIDGID power tools carry a 90-day satisfaction guarantee and a limited three-year warranty.
RIDGID® is a registered trademark of Ridgid, Inc., part of Emerson Professional Tools, a business of St. Louis-based Emerson (NYSE: EMR). The tools are designed and manufactured by OWT Industries, Inc., a wholly owned subsidiary of TechTronic Industries Company Limited (TTI) (HKEx stock code 669; ADR symbol TTNDY).
RIDGID® professional power tools are available at The Home Depot in the United States, Canada and Puerto Rico, as well as in industrial supply centers across the United States. For more information on RIDGID tools, go to
www.ridgid.com
or for customer service call 1-800-4-RIDGID (1-800-474-3443).
XRIDGID A82015, R83015, R84015 Cordless 1/2" Drill 12-volt, 14.4-volt, 18-volt
Features o Rapid Max(TM) twin charger o Exceptional torque o Max HC(TM) high capacity batteries o Single sleeve locking carbide chuck o Auto spindle lock
Speeds 12-volt (0-400 /0-1600 RPM) 14.4-volt(0-400 / 0-1600 RPM) 18-volt (0-450 / 0-1600 RPM) oNo load speeds for the aboveo
Motor High torque motor
Max Torque: 12-volt (365 in-lbs) 14.4-volt (415 in-lbs) 18-volt (485 in-lbs)
Accessories o Dual port 30 minute charger o 2 high-capacity battery packs o Screwdriver bit o Auxiliary handle o Carrying Case