Product News: Material Handling & Storage
Contractor Lift moves 450 lb loads vertically up to 17 ft.
Press Release Summary: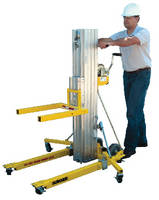 February 1, 2012 - Featuring stowed height of 62 ¾ in., Model 2416 is equipped with stabilizer legs and 4 mast sections that extend or lower as user cranks lift winch. Reversible fork can be fitted with fork extensions, pipe cradles, or 24 x 28 in. steel tray. Inside-mast cable feed keeps cable out of operator's face, while pulley guards prevent load cables from coming off during transport. Positioned behind winch assembly and at bottom of unit, wheels enable user to lay lift down and roll it into vehicle.
Sumner Manufacturing Co., Inc. - Houston, TX
Original Press Release
Sumner Manufacturing Announces New 2416 Contractor Lift
Press release date: January 25, 2012
Sumner Manufacturing, the industry leader in pipe and material handling equipment, announces new compact 2416 Contractor Lift for mechanical contractors. Houston, TX - Sumner Manufacturing introduces the new compact 2416 Contractor Lift for mechanical contractors to quickly and easily move loads of 450 lbs. (200 kg) up to 17 feet (5.1 m) vertically with forks reversed. The 2416 extends upon Sumner's popular 2412 Contractor Lift, but adds an extra mast and stabilizer legs, enabling users to lift more weight higher. "The 2416 lift is perfect for any mechanical contractor looking for a compact, portable lift intended for one-man use on the job site," states National Sales Manager, Brendan Conway. "It easily fits in most vans, SUVs and truck beds. Like all Sumner lifts, the 2416 has an inside-mast cable feed to keep cable out of the operator's face, and pulley guards that prevent load cables from coming off during transport. HVAC contractors, industrial maintenance contractors, electrical contractors, steel erectors and facility maintenance managers will all find the 2416 Contractor Lift ideal for any lifting task." The 2416 utilizes four mast sections that extend or lower as the user cranks the lift winch and, like the 2412 Contractor Lift, a reversible fork that can be fitted with optional fork extensions, pipe cradles or a 24-inch by 28-inch steel tray. The 2416 features a double-handle at the top of the lift for easy maneuverability and casters that swivel independently for multi-directional positioning. Winch handles are detachable and wheels are positioned behind the winch assembly and at the bottom of the unit to enable laying the lift down and easily wheeling it into a vehicle. Both lift legs and stabilizer legs reposition and lock into place for compact storage. Plunger pins are used with the front leg lock mechanisms and forks eliminating extra hardware that can easily be lost. Lockable front casters keep the lift stationary while in use. The 2416 weighs only 243 lbs. (110.2 kg) and has a stowed height of 62-3/4" (159 cm). The maximum footprint of the 2416 with stabilizer legs extended is 48 inches (122 cm) by 55-1/4 inches (140 cm). With front and stabilizer legs in stowed position the 2416 footprint reduces to 23 inches (58 cm) by 26-3/8 inches (67 cm). For more information visit http://www.sumner.com. About Sumner Manufacturing Co., Inc.:
Founded in 1965 in Houston, TX, Sumner Manufacturing has served the welding and mechanical contracting industry for nearly a half century, creating high quality material lifts, jack stands, pipe fit-up clamps, welding tools, and material carts that are currently used daily in more than 50 countries around the world in numerous industries. All Sumner products are built with the concept of providing safe, common sense tools which are priced right. Sumner Manufacturing maintains offices in Houston, TX, Canada, China, the UK and the Netherlands. Contact:
Les Thomas, Marketing Coordinator
Sumner Manufacturing Co., Inc.
281-999-6900 ext. 103
lthomas@sumner.com
http://www.sumner.com