Product News: Electrical Equipment & Systems
Constant Current Power Supply serves high-power LED lamps.
Press Release Summary: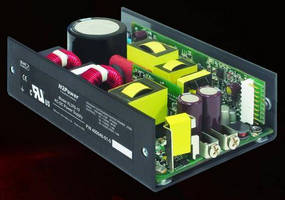 November 8, 2012 - Intended to drive strings of LEDs in high-power lamps, XL375LED models consist of open-frame, 375 W, AC/DC power supplies that offer single main outputs of 12, 24, 28, 36, 40, 48, or 56 Vdc max. Each has 12 V/1 A auxiliary output, normally used to drive cooling fan, and one 5 V/1 A standby output. Supplied in 3.3 x 5 x 1.50 in. package, RoHS-compliant products have universal 90–305 Vac input, power density of over 15 W/in.³, and efficiency ratings up to 93%.
Original Press Release
N2Power Marks 50th Anniversary of Visible LED with 375W Constant Current Power Supply for High Power LED Lamps
Press release date: October 25, 2012
Open-frame unit for industrial, entertainment and outdoor lighting features compact design and high efficiency
Simi Valley, CA: N2Power, a division of Qualstar Corporation (NASDAQ: QBAK), announces constant current versions of its 375W AC-DC power supply dubbed XL375LED. The new units are designed to drive strings of LEDs in high power lamps for industrial, entertainment and outdoor lighting requirements. Their introduction celebrates the 50th anniversary of the first demonstration of a visible spectrum, 'modern day' LED in October, 1962 by Nick Holonyak, Jr., while he was working at GE Advanced Semiconductor Laboratory in New York, USA.
The XL375LED models offer single main outputs of 12, 24, 28, 36, 40, 48 or 56VDC maximum. They also have a 12V/1A auxiliary output (normally used to drive a cooling fan) and a 5V/1A standby output. The compact 1.50 inch (3.81cm) high package has a footprint of just 3.3 x 5 inches (8.38 x 12.7cm) for a power density of over 15W/in3 and is up to 93% efficient. This high efficiency further supports the lighting industry's drive to reduce energy consumption through the use of solid-state LED light sources. Other features of the XL375LED include active power factor correction, current sharing and inrush current protection.
The XL375LED has a universal AC input (90-305VAC), which is particularly important for LED lighting manufacturers as they need to achieve 277VAC input certification. The unit is RoHS compliant and meets all major international safety and EMC requirements.
N2Power's Vice President of Sales, Randy Johnson, said, "This power supply family complements perfectly the high efficiency, long operating life and reliability of LED lighting. The XL375LED supplies are rugged, compact and designed in close consultation with LED lighting manufacturers, so they are tailored precisely for this application."
The XL375LED models are priced from $199 each in OEM quantities of 500+. Sample units are available now.
N2Power power supplies are sold worldwide through a network of authorized representatives and distributors.  Call +1 805 583 7744, or visit
www.n2power.com
for more information.
For further information and reader enquiries:
Bob Covey
Qualstar Corp.
Tel: +1 805 583 7744 ext. 143
covey@qualstar.com
Technology PR agency:
Bob Jones, Publitek 
Tel: +44 (0) 1225 470000
E-mail: n2power@publitek.com
About Qualstar Corporation
Qualstar manufactures automated tape libraries and power supplies. Its products are known throughout the world for energy efficiency and rugged, Simply Reliable designs yielding years of trouble-free operation. Qualstar tape libraries are sold, installed and supported worldwide to backup, archive and protect data from incidental and catastrophic loss. Its N2Power brand switching power supplies are sold worldwide to OEM manufacturers who require both industry-leading high power efficiency and very small size for their products. Qualstar Corporation is publicly traded on the NASDAQ National Market under the symbol QBAK. More information is available at
www.qualstar.com
,
www.n2power.com
or by phone at 805-583-7744.