Product News: Mounting & Attaching Products
Composite Wear Plate combines thin construction with durability.
Press Release Summary: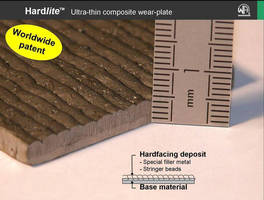 May 13, 2010 - For applications where weight is restricted, Hardlite¢ is adaptable and formable, measures less than 3/16 in. thick, and achieves hardness level of 68 HRC. Refined micro-structure with high volume of chromium carbides promotes wear resistance. Advantageous for moving parts, product suits applications such as cones, endless screws, tubes, armoring of vertical crushers, classifiers, vibrating tables, and fans in steelmaking, cement, quarries, agriculture, and thermal power stations.
Original Press Release
Hardlite: The Ultra-Thin Composite Wear Plate
Press release date: May 12, 2010
Welding Alloys has introduced Hardlite¢. Specially adapted for applications where weight is restricted, the new ultra-thin composite wear plate is more adaptable, formable, lighter, harder and is really advantageous for moving parts.

The HardliteTM¢ features an extremely refined micro-structure with high volume of chromium carbides alloying an ultra high wear resistance.

Optimum hardness (66-68 HRC- Harder than Quartz) adapted to extremely high wear resistance and moderate impact
Outstanding wear properties up to approximately 400¢ªF.
High temperature resistant and corrosion resistant HardliteTM also available.

Applications include cones, endless screws, tubes, armoring of vertical crushers, classifiers, vibrating tables, fans¡¦in steelmaking, cement, quarries, agriculture, and thermal power stations are just examples as the applications range is very large.

Welding Alloys USA
welding-alloys.com/usa
Tel: +1 (859) 525 0165
Toll free: 866 WELD ALL
Fax:+1 (859) 525 9094