Compact, Extractive Gas Analyzer delivers TDL measurements.
Press Release Summary: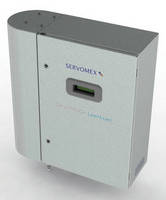 May 10, 2012 - With concentrations provided as 4-20 mA outputs (Ethernet optional), SERVOTOUGH LaserExact uses Tuneable Diode Laser (TDL) Technology and can detect diverse range of gases and hydrocarbons. Unit combines multipass long path length cell with High Frequency (HF), Frequency Modulated (FM) signal processing, resulting in ppb detection limits suited for measurement of trace gases offline. Also included, peak-locking technology eliminates drift over extended operational periods.
Original Press Release
New SERVOTOUGH LaserExact Delivers TDL Measurements in Compact Extractive Design
Press release date: April 27, 2012
Crowborough, UK - Specifically designed for extractive trace analysis applications, the new SERVOTOUGH LaserExact gas analyser from Servomex delivers the exceptional benefits of Tuneable Diode Laser (TDL) Technology within a robust and compact analyser design.

Able to detect a wide range of gases including O2, HCl, HF, NH3, CO, CO2, H2O, H2S, HCN, NO, N2O, CH4 and other hydrocarbons, the LaserExact combines an advanced multipass long path length cell with Servomex's superior High Frequency (HF), Frequency Modulated (FM) signal processing. The result is unsurpassed low ppb detection limits for most gases, making the LaserExact ideal for the measurement of trace gases offline.

The LaserExact's advanced TDL technology delivers a fast response time, highly stable performance and minimal interference from background gases. With no moving parts or consumables, the LaserExact minimises operating costs, while the stable, drift-free performance reduces the downtime incurred by the calibration requirements of other analyser technologies.

The LaserExact utilises advanced peak-locking technology, which eliminates drift over extended operational periods by automatically tracking on the measured gas absorption line or - in applications where the measured gas is not normally present - tracking the absorption line of another gas present in the stream.. This robust tracking mechanism ensures a highly accurate operation by the LaserExact over long periods, with calibration frequencies extended beyond twelve months for many applications.

Designed for easy installation and integration, the LaserExact is immediately ready for operation following the connection of power, sample gas and optional purge gas. With gas concentrations provided as 4-20mA outputs with the option of Ethernet communication, the LaserExact delivers immediate class-leading performance that meets ATEX and Class1 Div2 CSA approvals.

The LaserExact is ideal for a wide range of high purity, process and emissions control requirements. Applications include measurement of H2S and CO2 in natural gas, O2 in flare gas recovery systems, trace O2 in glove box applications, corrosive combustion emission gases, and H2S emissions monitoring for biogas, pulp & paper and industrial gas production.

With the LaserExact complementing the capabilities of the SERVOTOUGH LaserCompact short path and SERVOTOUGH LaserSP cross-stack analysers, Servomex now offers the most comprehensive range of TDL gas analysis technology available to the market.

"The potential of TDL technology as an effective and flexible gas analysis technique has been well understood for some time, but the Servomex Laser range enables users to select a specific TDL analyser type optimised for their application," says Chris Cottrell, Managing Director, Servomex. "By specifically addressing extractive trace analysis applications, the LaserExact brings TDL analysis to a new range of customers."

For more information about the new SERVOTOUGH LaserCompact from Servomex, contact Servomex's Regional Business Centres based in North America (+1 281 295 5800), Latin America (+55 115 188 8166), Europe/Africa (+31(0)79 330 1580) Middle East/India (+91(0)226 710 0360) and Asia Pacific (+86(0)216 489 7570), or email info@servomex.com.

About Servomex Group Ltd As the world expert in gas analysis, Servomex has established itself as the leading provider of reliable, accurate and stable gas measurement solutions to industries across the globe.

An acknowledged innovator in gas analysis technologies for more than 50 years, Servomex is the originator of and world leader in paramagnetic sensing technology and has an exceptional reputation in the development of zirconia, laser (TDL), gas chromatography, FID, coulometric, photometric and thick film technologies. With a leading edge in R&D and manufacturing maintained by two Technical Centers based in Crowborough, UK and Boston, Massachusetts, the result is high-performance, cost-effective gas analysis, delivered through a portfolio of dependable products ranging from portable gas analysers to complex process solutions.

Servomex's commitment to providing a complete industry solution to gas analysis extends across our business, with our Hummingbird Sensing Technology brand delivering our sensor technology to OEM partners and the recently-acquired Delta F Corporation extending our product offering through high quality oxygen and moisture analysis technologies. Servomex is committed to providing excellence in customer service, offering full sales and service support through global business centers based in Houston, Texas; Zoetermeer, Netherlands; Shanghai, China; São Paulo, Brazil; and Mumbai, India..

Servomex is part of Spectris plc, a leading supplier of instrumentation and controls to global markets.

For further information Contact: Chris Lawrenson at Coda Communications E-mail: chris@codacomms.co.uk / Tel: +44 (0)1202 669694/ Cell: +44 (0)7590 036435