Product News: Waste Handling Equipment
Compact Crusher measures 7.5 in. from inlet to outlet.
Press Release Summary: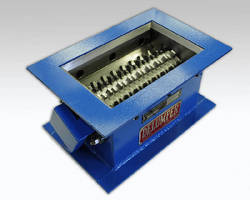 March 8, 2011 - Available in carbon steel or 304 stainless steel construction with one-piece body, DELUMPER® 1065N features 6 5/8 x 11 in. inlet opening and hardened alloy one-piece cutting drum fitted with over 200 tapered teeth. Outboard bearings are protected by shaft seals to keep powders within cutting chamber. Supplied with direct gear drive or belt drive as required, crusher handles compressed products, silver and other agglomerates, minerals, and plastics.
DELUMPER Div., Franklin Miller Inc. - Livingston, NJ
Original Press Release
DELUMPER® Crusher 1065N
Press release date: March 8, 2011
Powerful Crushing Capabilities The new, ultra compact DELUMPER® 1065N is a crusher specially designed to handle compressed products, silver and other agglomerates, minerals, plastics and more. This unique unit has a special hardened alloy one piece cutting drum fitted with over 200 tapered teeth. The result is a crusher with a smooth, effective operation that easily processes metals, minerals, and other bulk solids, reducing them with minimal fines, overgrind, or heat-rise. The DC1065N is designed with a one-piece body, operates at low speed and features low noise and vibration, easy assembly and dependable service. The unit can be provided with a direct gear drive or belt drive as required. The DELUMPER 1065 is available in carbon steel as well as 304 and 316 Stainless Steel construction. The unit is only 7.5" from inlet to outlet and features a 6-5/8" x 11" inch inlet opening. The DC1065N is supplied with rugged outboard bearings protected by shaft seals to keep powders within the cutting chamber. Product is crushed by the cutting drum intermeshing with special sizing combs and discharged out the bottom. The 1065 is part of a complete line of DELUMPER CRUSHERS by Franklin Miller Inc. that includes in-line, ultra-sanitary and twin shaft units. For more information contact Franklin Miller Inc. 60 Okner Parkway, Livingston, NJ 07039. 973-535-9200 fax 973-535-6269 email: info@franlinmiller.com. www.franklinmiller.com