Product News: Computer Hardware & Peripherals
COM Express CPU Module incorporates AMD G-Series SoC.
Press Release Summary: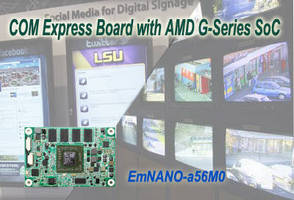 March 17, 2014 - Based on 1.0 GHz AMD GX-210HA dual core SoC with 9 W TDP, EmNANO-a56M0 Mini Type 10 CPU Module is suited for medical equipment, security and surveillance, gaming, digital signage, and 3D display. Board includes Radeon HD 8210 GPU and 2 GB DDR3L SDRAM as well as single channel 18-bit LVDS and DDI interfaces. Measuring 55 x 84 mm, module also incorporates Gigabit Ethernet controller, plus 8 USB 2.0 ports, 3 PCIe x1 lanes, and 2 SATA ports.
Original Press Release
ARBOR COM Express Family Powered by AMD G-Series SoC
Press release date: March 13, 2014
ARBOR Technology, a leading IPC provider of embedded computing solutions, expanded its COM Express product range by adopting the AMD dual core G-Series SoC (System-on-chip) processor which provides higher performance with low power consumption. The EmNANO-a56M0 is a Mini Type 10 CPU module, and is suitable for the applications require high graphic and interactive processing include medical equipment, security & surveillance, gaming, digital signage and 3D display.
The EmNANO-a56M0 soldered onboard AMD G-Series SoC which integrates a faster "Jaguar" x86-based CPU The new module use the GX- 210HA 1.0GHz dual core with a 9 Watt TDP as well as a faster Radeon HD 8210 GPU, leading to extraordinary low-power consumption and high graphic performance benefits for the new factor board. The EmNANO-a56M0 is equipped with 2GB DDR3L SDRAM and features dual independent displays, single channel 18-bit LVDS and DDI interfaces.
A gigabit Ethernet controller is also available, plus rich I/O and expansion connectivity for multiple choices in different applications include eight USB 2.0 ports, three PCIe x1 lanes, and two SATA ports. The new form factor with a footprint of just 55 mm x 84 mm is the smallest size in ARBOR's COM Express® product lineup, which makes it ideal choice for those who require smaller, lighter, and lower power embedded computing solution.
Learn more about EmNANO-a56M0 please download the datasheet as following:
http://www.arbor.com.tw/datasheet/2013/computer-on-module/EmNANO-a56M0_Datasheet-20131025.pdf
About ARBOR
ARBOR Technology Corp., was founded in 1993, is a leading IPC supplier of embedded computing products and services. With more than 20 years of experience in providing customer-driven, high performance, and industrial strength computing solutions in various industries, ARBOR strives to provide a complete solution from board to system in healthcare, transportation, industrial automation, mobile computing, digital signage, POS & Kiosk and intelligent applications. ARBOR is ISO-9001, ISO-13485 and ISO-14001-certifiied and commits to deliver high quality products with international standard and well-defined production process. More information about Arbor is available at
www.arbor.com.tw