Product News: Green & Clean
Central Inverters deliver optimal output for PV power plants.
Press Release Summary: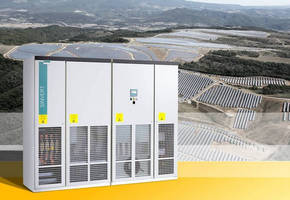 June 27, 2012 - Targeting photovoltaic (PV) power plants, Sinvert PVS585 and PVS630 deliver peak efficiencies up to 98.7% and European efficiency of 98.4%. Output power ranges - 585, 1,170, 1,755, and 2,340 kW for PVS585 and 630, 1,260, 1,890, and 2,520 kW for PVS630 - enable owners to counteract reduced compensation for electricity fed into grid and increase overall profitability of PV plants. Control box provides for central control of plant as well as regulation of active and reactive power.
Original Press Release
Optimized Output for Photovoltaic Power Plants: Siemens Expands Range of Central Inverters
Press release date: June 12, 2012
The Siemens Industry Automation Division has made an addition to the Sinvert PVS 600Series central inverter family for medium-sized and large photovoltaic power plants. The new Sinvert PVS585 and Sinvert PVS630 basic units supplement the previous range of rated powers with intermediate values. The expanded series now covers an output range from 500 up to 2520 kilowatts. This diversification results in maximum yield with optimum tuning to various MPP (maximum power point) windows. Compared to the Sinvert PVS500, the new Sinvert PVS585 features an increase in output power of around 17 percent. Sinvert central inverters deliver peak efficiencies of up to 98.7 percent, and a European efficiency of 98.4 percent. As a result of the extended output power ranges, owners can counteract reduced compensation for electricity fed into the grid and increase the overall profitability of their photovoltaic plants. The new Siemens Sinvert PVS585 central inverters with output ranges of 585, 1170, 1755, and 2340 kilowatts represent an optimum balance between maximum power and a wide MPP window. The new Sinvert PVS 630 with rated powers of 630, 1260, 1890 and 2520 kilowatts is particularly suitable for achieving maximum yields from high-quality modules. The Sinvert PVS portfolio also includes a control box for central control of the plant and regulation of the active and reactive power. The Fault Ride Through function increases plant availability. Expansion of the Sinvert PVS 600Series is also associated with extension of the reactive power data. In the future, it will be possible to compensate both reactive powers in finely meshed medium-voltage grids and voltage variations in extensive medium-voltage grids even better. Plant owners are thus superbly equipped for future grid requirements. Just like all Sinvert PVS devices, the new central inverters are designed for high plant availability and efficient long-term operation. Up to four inverter subunits can be connected together according to the master/slave principle. Initial selection always favors the master which can operate at low solar radiation levels. As the insolation intensity increases, the next subunit is switched in as slave. Compared to the use of only a single unit, this system increases the efficiency of the central inverter when irradiation levels are low. The operating time is distributed uniformly between the various subunits, and this in turn increases the service life of the components. Central inverters from Siemens have been assigned comprehensive certifications, and are suitable for use worldwide. In addition to the UL (Underwriters Laboratories), CSA (Canadian Standards Association), and IEC (International Electrotechnical Commission) quality standards, they support both 50 Hertz and 60 Hertz line frequencies. All Siemens central inverters are available individually or as turnkey solution, installed in a container with all the necessary medium-voltage components. The inverter stations can be controlled using a graphics display in the front of the control cabinet or operated by remote control. Faults in individual sections of the photovoltaic field can be detected and eliminated early on. Special dust or salt filters provide comprehensive protection for use in dry locations or those close to the sea. Globally available services and individually tailored servicing concepts round off the facilities available for the central inverters from Siemens. More information is available on the Internet at:
www.siemens.com/sinvert
A picture accompanies this press release. You can find it on the Internet at:
www.siemens.com/ia-picture/2913
You can find the text online at:
www.siemens.com/press/industryautomation/pressreleases
and on the special press event page for Intersolar Europe 2012 :
www.siemens.com/press/intersolar-europe-2012
Please send inquiries with the reference "IA2613" to: Siemens Industry Automation, Infoservice, P.O. Box 23 48, 90713 Fuerth (Germany) Fax: ++49 911 978-3321 or email: infoservice@siemens.com Siemens AG Corporate Communications and Government Affairs Wittelsbacherplatz 2, 80333 Munich Germany Media Relations: Peter Jefimiec Phone: +49 911 895-7975 E-mail: peter.jefimiec@siemens.com Siemens AG