Product News: Cleaning Products & Equipment
Carpet Steam Cleaner meets maid/housekeeping needs.
Press Release Summary: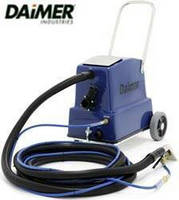 September 26, 2013 - XTreme Power® XPH-5800T, produces pressures to 170 psi and temperatures up to 150°F, which is reached within 15 min, to clean carpets in living rooms, dining areas, or bedrooms as well as maintain upholstered furniture. While minimizing use of water for conservation purposes, Low Flow™ technology also reduces required drying times to within 4 hr. Recovery chamber facilitates drainage, and features include XTreme-XTraction™ wand technology, 12 in. carpet wand, and 25 ft hoses.
Original Press Release
Daimer Unveils Carpet Cleaner for Maid and Housekeeping Services
Press release date: September 25, 2013
WOBURN, MA, U.S.A — Daimer Industries, Inc.®, the leading brand of high-powered carpet cleaners, durable floor cleaning equipment and multi-purpose car wash equipment, and many more, is glad to launch the XTreme Power® XPH-5800T, a carpet cleaning equipment which offers a pressure level of 170 psi and temperatures up to 150ºF, which is reached within 15 minutes due to a powerful tank heating element. The XPH-5800T commercial carpet steam cleaners can easily clean most substances and dirt deposits on carpets in living rooms, dining areas, or bedrooms, and can also maintain upholstered furniture like sofas.
"Maid and housekeeping service providers cannot rely on cheap machines that can take hours to clean and result in unimpressive cleaning results. Cleaning carpets effectively is only possible when using the best carpet cleaning machines featuring the best technologies," states Daimer Industries, Inc.® spokesperson, Matthew Baratta. "Daimer® is thrilled to announce the launch of a carpet cleaning equipment that offers powerful cleaning and extraction for fast and thorough cleanup. The XTreme Power® XPH-5800T industrial carpet cleaner features Daimer®'s Low Flow™ technology that lowers the usage of water and offers a greener way of cleaning. The technology allows helps reduce the drying time of the machine to within four hours."
Daimer® is the highly reputed supplier of cleaning systems that come with its advanced technologies. It has clients in more than 240 nations and its machines are used in most industries, such as cleaning, hospitality, and entertainment. Various huge national and global companies use machines from the company for cleaning purposes. The 100 percent American company offers over 700 models of different kinds of cleaning machines that are shipped to hundreds of countries all across the globe.
Carpeted floors, walls, and stairs in a house attract odors, oils, and particulates that should be removed in order to keep the indoors fresh, hygienic, and nice smelling. Moreover, not all kinds of dirt is visible to the naked eye, therefore, thorough cleaning of carpeted areas becomes even more essential for clients' healthier living.
The XTreme Power® XPH-5800T commercial carpet steam cleaners
http://www.daimer.com/carpet-cleaners/xtreme-power-xph-5800t.htm
come bundled with two gallons of Daimer®'s exclusive Eco-Green® Carpet Care & Upholstery Cleaner, that when pre-sprayed on carpets and made to dwell for a relatively short time, effectively cleans most build-up, stains, and dirt residing within it. The solution is completely eco-safe, so it does no harm to those with chemical allergies.
In addition, the company's XTreme-XTraction™ wand technology, included in the XPH-5800T industrial carpet cleaner, helps extract water, dirt and the Eco-Green® solution after cleaning, leaving behind absolutely no residues. The 12" carpet wand offers suction power that is 60 percent more than other wands in the market. The extraction power offered by the unique carpet shampooer is like adding another vacuum motor. Daimer® machines and technologies are so easy to use that even someone new in the cleaning business can work like a pro.
The supreme-quality carpet cleaning equipment can also be used as auto carpet upholstery cleaners. Customers can purchase an optional 4" wand for maintaining the carpets and upholstery of cars. This wand also helps in keeping the cloth upholstered surfaces in homes clean.
For quick cleaning, Daimer®'s XPH-5800T top-grade carpet extractor machines feature an easy recovery chamber drainage and long 25' hoses for cleaning up to 2000 sq. ft. while leaving the system in place. Long hoses help a lot while cleaning carpeted stairs, as users can keep the machine downstairs and clean just with the help of the hose.
The most important reason why the maid and housekeeping service providers should trust in Daimer®'s versatile carpet cleaner machines is the fact the company's Modular System Design™ (MDS™) and Self-Maintenance Engineering™ (SME™) technologies are included within each and every one of the company's models. The technologies allow users to change a part very easily themselves, anywhere in the world, without any professional help, or the need to send the machine back to the company. These exciting features make these systems the best carpet cleaner machines in the industry.
For Additional Information:
Call Matthew Baratta directly at (888) 507-2220 or visit Daimer®'s website to gather more information about the XTreme Power® XPH-5800T. These machines are shipped to many countries worldwide.
About Daimer Industries, Inc.®:
Daimer Industries, Inc.® is the globally renowned company supplying technologically-advanced cleaning machines, including auto carpet upholstery cleaners, pressure cleaners, vapor-rich steam vacuum cleaner systems, gum removal machines, hard surface cleaners, and more. Daimer® machines can be used for virtually all kinds of commercial cleaning tasks, including grease removal, graffiti removal, heavy machinery cleaning, hospital disinfection, spot cleaning of carpets, maintenance of parking lots, and many more.
Blog:
http://carpetcleanersdaimer.blogspot.com/
Watch Videos:
https://www.youtube.com/Daimerindustries