Product News: Controls & Controllers
Capacitive Touch Panels utilize Carbon Nanotube technology.
Press Release Summary: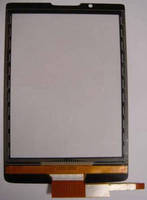 December 18, 2012 - Capacitive touch panels with Carbon Nanotube (CNT) technology are designed for use with LCDs for user input applications. CNT offers replacement for ITO in select resistive and capacitive touch panels and improves capacitive touch panel design regarding durability, accuracy, sensitivity, flexibility, transmissivity, and resolution. Manufacturing process also lends to optimized environmentally friendliness and production expenditure efficiency.
Original Press Release
Featured: New Carbon Nanotube Capacitive Touch Panels for LCD
Press release date: December 14, 2012
Capacitive touch panels have become the go-to technology for detecting user input in a wide range of applications and are commonly found paired with liquid crystal displays in every day devices such as desktop and smart phones, mobile devices, game consoles, all-in-one and tablet computers, appliances and monitoring devices. They have become one of the most essential features of the products we use every day and are now an indispensible part of our lives. At Microtips Technology we are proud of our full line of TFT liquid crystal displays featuring cutting edge projective capacitive touch (PCAP) technology.
We are also one of very few suppliers in the industry offering the latest Carbon Nanotube (CNT) technology. While CNT technology has been around in various forms for some time, recent developments have found it to be a very useful for improving capacitive touch panel design. We are currently using CNT technology as a replacement for ITO in some of our resistive and capacitive touch panels, which offers many benefits. CNT has higher durability, increased accuracy, higher sensitivity, flexible, better transmissivity, capable of higher resolutions, and even has a more environmentally friendly manufacturing process. There is also a cost savings associated with CNT due to cheaper raw materials and no requirement for glass etching, which equates to a more price competitive final product. Further cost reducing options are available, such as offering glass-film (GF), glass-film-film (GFF) and hybrid GFF designs. We also have PCAP touch panel options where the cover glass is integrated into the PCAP glass, removing the need for an extra layer in cases where mechanical thickness is a concern.
For more info, please visit
www.microtipsusa.com/.