CAM Software combines advanced strategies, intuitive UI.
Press Release Summary: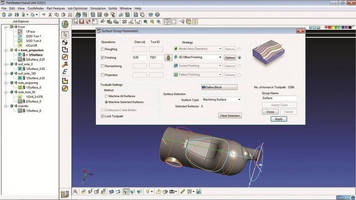 December 14, 2012 - PartMaker 2013 is used for programming production-machining equipment, such as turn-mill centers, bar-fed mills, and Swiss-type lathes. While UI with Job Explorer tree fosters productivity, Advanced Surface Machining (ASM) module accelerates toolpath calculation and increases tool control and surface finishes for users making complicated parts. Advanced milling strategies, included as standard, compliment traditional work flow.
Original Press Release
Delcam's 2013 PartMaker CAM Includes New Machining Module
Press release date: December 11, 2012
Delcam has launched the 2013 version of its PartMaker CAM software for the programming of production-machining equipment such as turn-mill centres, bar-fed mills and Swiss-type lathes.  Among a number of other enhancements, this new version features a totally revamped surface-milling module offering users some of the most powerful CAM algorithms on the market.  PartMaker 2013 also features a restyled, more productive user interface.

More details about the new version can be found in the PartMaker 2013 learning zone on Delcam TV at http://www.delcam.tv/pmk2013/lz/.

"PartMaker 2013 is probably the most significant release in the long history of the product," claimed PartMaker Division President, Hanan Fishman.  "With a new, ultra-sleek user interface and a host of new, advanced milling strategies, PartMaker 2013 offers its users perhaps the most comprehensive and powerful CAM system on the market today for the full spectrum of production machining applications, all while maintaining the software's industry-leading ease of use."

"PartMaker's new Advanced Surface Machining (ASM) functionality is based on the same technology and algorithms underpinning Delcam's PowerMILL, the leading CAM system on the market for five-axis and high-speed machining," added Mr. Fishman.  "The new functionality answers the needs of our customers making increasingly complicated parts, particularly those in the medical-device and aerospace industries."

PartMaker 2013 also features a sleeker, restyled user interface.  Headlining the improvements is the Job Explorer tree, which makes navigating machining-function windows and part features faster.  Additionally, a number of new controls have been added to the software to make working even more intuitive.  Also, a number of diagrams in the software have been recast and revamped to give the program a fresh look.

While the user interface enhancements are numerous, PartMaker 2013 has retained its traditional work flow, with its industry leading ease of use, so existing users will not have to worry about any relearning: they will just be able to be more productive.

The new ASM high-end milling module replaces PartMaker's Surface Machining Wizard module for surface machining of free-form shapes.  For existing PartMaker users, the upgrade to ASM will be provided free of cost and the transition will be very easy to make.

The benefits of the ASM module are numerous.  In particular, it will allow faster toolpath calculation, greater tool control and improved surface finishes.

The ASM module features a wide variety of high-end milling strategies that can be applied across the entire suite of PartMaker CAM applications including PartMaker Mill, PartMaker Turn-Mill and PartMaker SwissCAM. 

For further information on Delcam's PartMaker CAM software, please contact:
Peter Dickin, Marketing Manager
Direct phone: 44 (0)121 683 1081 
e-mail: marketing@delcam.com

Delcam plc,     
Small Heath Business Park,   
Birmingham, B10 0HJ, UK
www.delcam.com