Brushless Servo Motor has integral encoder.
Press Release Summary: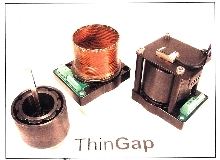 June 13, 2002 - TG1500 Series Slotless PM dc motor operates over speed range of 0 to 4000 rpm, is compatible with NEMA 23 mounting requirements, eliminates eddy current and hysterisis losses, and achieves 89% peak system power efficiency. Integral optical encoder provides 4,096 lines per revolution with 8x interpolation feature that yields 32,768 counts per revolution. Motor produces continuous torque of 115 oz-in. at 2400 rpm, and measures 2.375 in. dia x 2.240 in. long.
Original Press Release
ThinGap Slotless Brushless PM Motor With Integral Encoder
Press release date: June 4, 2002
The ThinGap(TM) brand TG1500 Series Slotless Brushless PM Motor with integral encoder of Ventura, CA, incorporates new stator winding technology that eliminates eddy current and hysterisis losses and achieves 89% peak system power efficiency. The TG1500 brushless dc motor operates over a wide speed range (0 to 4000 rpm). The TG1500 size 23 brushless servo motor series is compatible with NEMA 23 mounting requirements. A maximum continuous torque of 115 ounce-inches is achieved at 2400 rpm rated speed point using an operating voltage of 24 vdc and 15.6 amps to the TG1500 series motor from the specified PWM servo amplifier. The integral optical encoder provides 4096 lines per revolution with an 8 times interpolation feature that yields 32,768 counts per revolution (15 bits). Other encoder mounting options available. The thin wall of the stator coil allows a miniature air gap to be utilized in combination with the high energy Neodymium-Iron-Boron magnets to create a high power density brushless PM motor. With no magnetic hysterisis, low speed cogging is non-existent. Armature inductance measures below 10 microhenries and line-to-line resistance is 0.3 ohms @ 25°C. The TG1500 series is thermally rated for high performance operation up to 160°C temperature rise plus ambient conditions. Motor unit size measures 2.375" OD by 2.240" long. The integral encoder has a larger 2.85" by 2.25" rectangular footprint by 0.52" axial length. Total motor-encoder package length is 2.76". For further information, please contact ThinGap at (805) 477-9741, fax to (805) 477-9743, or visit our website at
www.thingap.com
. 509 Marin St. #221 - Thousand Oaks, CA 91360 (805) 496-8501 - FAX: 805-496-6323 - E-mail: DJones9352@aol.com