Product News: Computer Hardware & Peripherals
Boundary Scan Controller features wireless LAN interface.
Press Release Summary: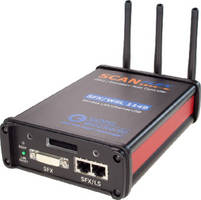 October 29, 2012 - Providing Triple Stream/Dual Band WLAN interface for theoretical transmission speed up to 450 Mbps, SFX/WSL1149-(x) Series enables wireless utilization of Embedded System Access technologies for testing, programming, and debugging of complex chips, boards, and systems. Controller is compatible with IEEE standard 802.11a/b/g/n and provides both USB 2.0 and Gigabit Ethernet interfaces. Three models of different performance classes can be configured by software, enabling TCK frequencies up to 80 MHz.
Original Press Release
World's First Boundary Scan Controller with Wireless LAN Interface
Press release date: October 22, 2012
GOEPEL electronic announces the introduction of SFX/WSL1149-(x), the world's first controllers for Wireless LAN (WLAN) as an addition to the company's Boundary Scan hardware platform SCANFLEX®. The new Boundary Scan controller series provides a Triple Stream/Dual Band WLAN interface for theoretical transmission speed up to 450 Mbps, enabling wireless utilization of the newest Embedded System Access (ESA) technologies for testing, programming and debugging of complex chips, boards, and entire systems.

"Our goal of continuously expanding the market leadership by our unrivalled Boundary Scan hardware platform SCANFLEX is impressively demonstrated by the new controller on WLAN basis", says Thomas Wenzel, Managing Director of GOEPEL electronic's JTAG/Boundary Scan division. "The wireless communication enables considerably more flexible process integration for operations such as remote debugging, centralized control of distributed test and programming systems, or resource splitting between several users in the lab as well as in the production process."

About the new WLAN controller:
The SFX/WSL1149-(x) controller series is the world's first with integrated WLAN control, compatible with IEEE standard 802.11a/b/g/n. Additionally, the module provides USB2.0 and Gbit Ethernet interfaces.

The controller series includes three models of different performance classes to be configured by software, enabling TCK frequencies of up to 80 MHz. In combination with additional components of the modular SCANFLEX product range, such as the SCANFLEX® TAP Transceiver (SFX Transceiver) and SCANFLEX® I/O modules (SFX Modules), WLAN controlled Boundary Scan systems can be configured with up to eight independent parallel TAPs and up to 31 additional analogue or digital functional modules. The wireless operation greatly simplifies handling, providing benefits for remote test, debug and fault diagnosis applications. On this basis, the SFX/WSL1149-(x) is able to support all technologies for Embedded System Access. 

The SFX/WSL1149-(x) controller series will be fully supported in the JTAG/Boundary Scan software platform SYSTEM CASCON™ starting from version 4.6.2.

About Boundary Scan:
Boundary Scan (IEEE Std. 1149.x) is a technology for embedded access of IC pins by way of integrated scan cells. They form a shift register controlled via the Test Access Port (TAP). The principle was developed as an alternative to In-Circuit Test (ICT) to avoid the utilization of nail probe contact.

Boundary Scan is part of the so called Embedded System Access (ESA) technologies, containing procedures such as Chip Embedded Instruments, Processor Emulation Test, In-System Programming or Core Assisted Programming. ESA technologies are currently the most modern strategies for validation, test and debug as well as programming of complex boards and systems. They can be applied throughout the entire product life cycle, enabling enhanced test coverage at reduced costs.

About GOEPEL electronic:
GOEPEL electronic is a worldwide leading vendor of innovative electronic and optical test and inspection systems, being the market leader for professional JTAG/Boundary Scan solutions for Embedded System Access (ESA). A network of branch offices, distributors and service partners ensures the global availability of the products as well as the support of the more than 7,500 system installations. Founded 1991 and headquartered in Jena, Germany, GOEPEL electronic employs currently about 200 employees and generated a revenue of 26 Million Euro in 2011 (ca. $35 Mio). GOEPEL electronic has continuously been ISO9001 certified since 1996 and has been honoured with TOP-JOB and TOP-100 awards for being one of the best medium-sized companies in Germany. GOEPEL electronic's products won several awards in recent years and are used by the leading companies in telecommunication, automotive, space and avionics, industrial controls, medical technology, and other industries. Further information about the company and its products can be found on the internet at www.goepel.com.

Press Contact:
GOEPEL electronic GmbH                     Tel: +49-3641-6896-739
Stefan Meissner                                        Fax: +49-3641-6896-944
Goeschwitzer Str. 58-60/66                     Email: press@goepel.com
D-07745 Jena                                           URL: www.goepel.com

Sales Contact USA:
GOEPEL electronics LLC                       Tel.: +1 512 782 2500
David Whetstone                                      Fax: +1 734 471 1444
9737 Great Hills Trail, Ste. 170              Email: us-sales@goepelusa.com
Austin, TX 78759                                     Web: www.goepelusa.com
USA