Product News: Safety & Security Equipment
Bottled Eyewash features dust-resistant cover.
Press Release Summary: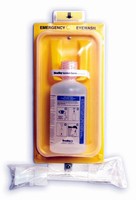 December 12, 2006 - Opti-aid® bottled eyewash station includes static-resistant curved dust cover to minimize dust collection, and helps flush hazards from eye prior to reaching ANSI-compliant eyewash station. Mounted to wall or solid surface, yellow bottled eyewash holder can be seen when vision is compromised. Bottle is dual-sterilized and safety sealed with tamper-evident cap, and available in 16 and 32 oz sizes with trilingual bottle labeling and graphics.
Original Press Release
Bradley Introduces "Dust-Free" Bottled Eyewash Station
Press release date: December 5, 2006
MENOMONEE FALLS, Wis., (Dec. 5, 2006) - The new Opti-aid® bottled eyewash station from Bradley Corp. is the first to actually repel dust to help prevent further contamination to the eyes. The Opti-aid personal eyewash features a unique static-resistant curved dust cover to minimize dust collection and keep the top of the bottle clean and ready-to-use.
The exclusive safety yellow bottled eyewash holder can be easily seen, even when vision is compromised. An easy to access, pull-away dust cover protects the bottled eyewash. The Opti-Aid station can be easily mounted to a wall or other solid surface -and it's cost-effective enough to install at each workstation. The personal eyewash helps flush hazards from the eye prior to a user reaching an ANSI-compliant eyewash station for a full 15-minute flush.
Opti-aid is dual-sterilized and safety sealed with a tamper-evident cap for user protection. Bottles are available in 16- and 32-ounce sizes - both with tri-lingual bottle labeling and graphics to ensure that all users can quickly see how to use the eyewash. Bradley's Opti-aid solution is crystal clear, odorless and less irritating than other eyewash solutions available.
For 85 years, Bradley Corporation has designed and manufactured commercial washfountains, and today is the industry's comprehensive source for plumbing fixtures, washroom accessories, partitions, emergency fixtures and solid plastic lockers. Headquartered in Wisconsin, Bradley serves the commercial, industrial, health care, recreation, education, and corrections markets worldwide. For more information, contact Bradley, Telephone: (800) Bradley; Fax: (262) 251-5817;
www.bradleycorp.com
.