Product News: Computer Hardware & Peripherals
Bluetooth Access Point connects industrial devices to Ethernet.
Press Release Summary: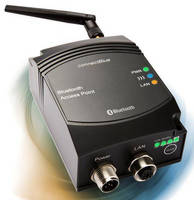 December 5, 2012 - Able to connect up to 7 Bluetooth devices to 10/100 Base-T Ethernet network, RBE221s provides maintenance-free connection that operates 24/7 despite EMC conditions, dust, humidity, temperature variations, and movement changes. Complete Bluetooth to Ethernet enabler supports point-to-multipoint connectivity with 7 slaves/clients simultaneously, and aggregate data rate between Bluetooth clients and RBE221s is 1 Mbps. Depending on connected device, wireless range can be up to 300 m.
Original Press Release
connectBlue Presents a High-Performing Bluetooth Access Point
Press release date: November 27, 2012
connectBlue today launched the rugged Bluetooth Access Point RBE221s which provides a reliable and robust Bluetooth connection between the Ethernet based infrastructure and industrial equipment.

The new connectBlue Bluetooth Access Point RBE221s is a complete Bluetooth to Ethernet enabler as it connects up to seven Bluetooth devices to the 10/100 Base-T Ethernet network. The RBE221s offers a maintenance-free connection that operates 24-7 regardless of EMC conditions, dust, humidity, temperature variations, and rapid movement changes.

"Our specialty indeed lies in providing demanding industrial and medical markets with reliable, high-performing wireless connections," says Rolf Nilsson, CEO of connectBlue. "There are only a handful of generic Bluetooth Access Points on the market today and we can offer an improved wireless performance in our markets."

Supporting point-to-multipoint connectivity with seven slaves/clients simultaneously, the aggregate data rate between the Bluetooth clients and the RBE221s is 1 Mbps. Depending on the connected device, the wireless range can be up to 300 meters. The RBE221s supports the two Personal Area Network (PAN) roles PAN User (PANU) and Network Access Point (NAP).

The RBE221s Bluetooth Access Point can be configured smoothly either via physical configuration buttons and indication LEDs or a web interface. For those that wish to access more advanced settings and use cases, one can also configure the RBE221s through AT Commands and SNMP protocol.

Other sought for features include the connectBlue Low Emission Mode® for not disrupting other 2.4GHz radios, Simple Pairing, Quality of Service (QoS), iPad support, and Android device support.

About connectBlue
connectBlue® is a leading provider of robust Industrial and Medical wireless solutions, designed and tested for the most demanding applications and environments. Based on Classic Bluetooth technology, Bluetooth low energy technology, Wireless LAN (WLAN) and IEEE 802.15.4 / ZigBee, connectBlue provides ready-to-use products and modules as well as custom design solutions. connectBlue has its head office in Sweden and local offices in Germany and USA. For more information, please visit www.connectblue.com.

connectBlue® is a registered trademark of connectBlue AB.

For further information
connectBlue – Americas:
Bill Saltzstein, President connectBlue, Inc.
Phone: + 1 425.442.5854
Email: bill.saltzstein@connectBlue.com

US OFFICE: connectBlue, Inc. • 8201 164th Ave NE, Suite 200 • Redmond, WA 98052 • USA
Phone +1 (425) 442 5854 • Fax +1 (312) 277 3209 • us-info@connectblue.com

www.connectblue.com
©2012 connectBlue AB. All rights reserved. All specifications are subject to change without notice.