Product News: Plant Furnishings & Accessories, Electrical Equipment & Systems, Mounting & Attaching Products
Black FRP Industrial Enclosures feature weatherproof design.
Press Release Summary: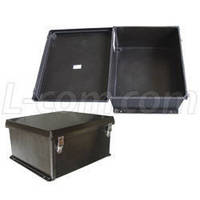 May 13, 2014 - Constructed from molded halogen-free and self-extinguishing fiberglass reinforced polyester, UL® listed NBB Series is suited for high temperature or corrosive environments. Model NBB141207 measures 14 x 12 x 7 in., while Model NBB181608 measures 18 x 16 x 8 in. In addition to fully gasketed lids, NEMA-rated enclosures feature integral mounting flanges that allow them to be mounted on walls or flat surfaces without need for extra mounting hardware.
Original Press Release
L-com Announces Release of UL® Listed Black FRP Industrial Enclosures
Press release date: May 1, 2014
NORTH ANDOVER, MA – L-com, Inc., a designer and manufacturer of wired and wireless connectivity products, announced today that they have launched a new NBB series of UL® listed weatherproof industrial enclosures. Constructed from molded halogen- free and self-extinguishing fiberglass reinforced polyester (FRP), these enclosures are well suited to high temperature or corrosive environments.

The NBB series enclosures are available in L-com's two most popular sizes: the NBB141207 (14x12x7 in.) and NBB181608 (18x16x8 in.). The black color of the NBB series makes these enclosures ideal for security and surveillance equipment, since they seamlessly blend in with existing municipality landscapes. Additionally, the contoured body produces an attractive and contemporary appearance.

"The advantage of the NBB series enclosures is that both sizes are ideal for custom applications that may require special modifications," said Kenneth Burgner, Product Manager, "We can offer options such as heating, cooling and vented versions, as well as cutouts in the enclosure."

The NEMA rated enclosures also feature fully gasketed lids and integral mounting flanges that allow them to be mounted on walls and flat surfaces without the need for extra mounting hardware. Optional pole mounting kits are also available from L-com.

For more information about this release, please contact:
Peter McNeil
Product Marketing Manager
978-682-6936 x1450
mailto:pmcneil@l-com.com

About L-com Global Connectivity
L-com Global Connectivity, a global leader in the manufacture of wired and wireless connectivity products, offers a wide range of solutions and unrivaled customer service for the electronics and data communications industries. The company's product portfolio includes cable assemblies, connectors, adapters, computer networking components, and custom products, as well as their HyperLink® brand of wireless products which include antennas, RF amplifiers, coaxial lightning and surge protectors, and NEMA rated enclosures. L-com's HyperLink® wireless products are designed for WiFi, WiMAX, SCADA, 802.11a/b/g/n/ac, RFID and Bluetooth applications. In addition to HyperLink® , L-com's other brands include MilesTek®, specialists in Military/Aeronautics connectivity solutions and Aiconics®, a leading manufacturer of electrical connector products.  Trusted for over 30 years, L-com, which is headquartered in North Andover, MA, is ISO 9001: 2008 certified and many of its products are UL® recognized. For more information, please visit:  http://www.L-com.com/. 

Friendly & Knowledgeable Service ? In Stock Availability & Same Day Shipping ? 100% Satisfaction Guaranteed
Connect with L-com:   Twitter   Facebook   YouTube   Google +