Product News: Material Handling & Storage
Automated Retort Basket Loading System offers high throughput.
Press Release Summary: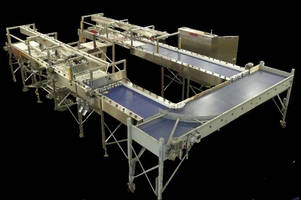 June 28, 2011 - Capable of providing in excess of 10 sweeps/min and basket changeover in less than 20 sec, 400X Hyper-Loader supports 3,000/min throughput of 212 X 107 sized cans. Servo carriage control lend to positioning precision and speed, while container pattern pre-stage area allows for continuous sweeping. Additional features include slip sheet squaring area, VFD control on all conveyor motors, hydraulic product elevator, and proportional hydraulic valve control.
Original Press Release
Allpax Announces Breakthrough in Automated Retort Loading
Press release date: June 21, 2011
50 Percent Increased Throughput for Small Cans One pet food company automatically loads into a retort basket 3,000 212 X 107 sized cans per minute, up from 2,000
COVINGTON, La. - Allpax Products, a division of Pro Mach and a market leader in retort technology and retort room automation, announced today the successful development of the fastest retort basket loading system in the world - in excess of 10 sweeps per minute and basket changeover in less than 20 seconds.
"Food and pet food processors can potentially add a filler line and the new 400X Hyper-Loader and significantly boost throughput," said Greg Jacob, vice president and general manager, Allpax. "The productivity improvements should more than outweigh the capital investment for a solid ROI."
The Hyper-Loader technology of more than 10 sweeps per minute, up from 6 to 7 for a standard Allpax automated loader, and a reduction of basket changeover time from 30 seconds to less than 20 came out of an application where a pet food processor upgraded its kitchen. With the upgrade came more cans per minute than the automated loader could handle. The Allpax solution raised the throughput of 212 X 107 sized cans from 2,000 to 3,000 per minute, a 50 percent increase.
The Allpax Hyper-Loader technology breakthrough is based in part on:
Servo carriage control for precise and fast positioning
Container pattern pre-stage area to allow for continuous sweeping
A Slip sheet squaring area to ensure accurate placement
A VFD control on all conveyor motors to optimize efficiency and flexibility
A smart hydraulic product elevator for precision placement
Proportional hydraulic valve control to optimize elevator positioning speeds
Flexibility to run multiple container sizes rapidly with easily installed change parts.

At only four feet longer than a standard Allpax automated loader, the Hyper-Loader offers essentially the same footprint and should present few issues in retrofit applications. For information on Allpax's Hyper-Loader, production retorts, R&D retorts, control systems, automation, refurbished retorts, and products and services for older canneries relying on vertical retorts, call 1-888-893-9277 and visit www.allpax.com.

About Allpax Products Allpax Products, a market leader in retort technology and retort room automation, designs, manufactures, and delivers turnkey sterilization solutions for the food, beverage, pet food, and pharmaceutical industries. The company is recognized for helping customers become more successful by decreasing time to market with laboratory retort equipment, lowering overall labor costs through automation, and increasing the overall throughput of the sterilization process. www.allpax.com

About Pro Mach Pro Mach, Cincinnati, Ohio, is a leading provider of integrated packaging products and solutions for food, beverage, household goods, pharmaceutical, and other diverse consumer and industrial companies. Through three business units and related divisions, Pro Mach provides equipment, training, installation, and parts in primary packaging, end-of-line packaging, and identification and tracking. ProMachInc.com