Automated Data Collection Software supports all plant equipment.
Press Release Summary: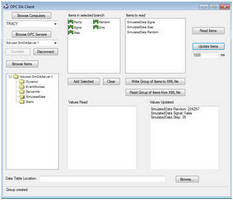 November 6, 2012 - Synergy 2000™ Multi-function Toolbox v2.0 collects data from PLCs, CMMs, and other plant hardware in real time. Software lets companies transfer legacy data from other applications or databases, and integrate data from ERP, LIMS, and SCADA systems, while serving as communications bridge between OPC servers and Synergy 2000 OPC client. Using Open Database Connectivity, data can be imported from any database. Program is also compliant with latest version of Microsoft Net 4.0.
Original Press Release
Zontec Releases Synergy 2000 Multi-Function Toolbox Version 2.0 to Make Data Automation Seamless Regardless of Equipment
Press release date: November 1, 2012
Cincinnati, OH — Zontec Inc. the international developer of Statistical Process Control (SPC) software solutions, today announced an update to its Synergy 2000™ Multi-function Toolbox for its customers worldwide. "We believe that data automation should be transparent to the customer," said Zontec President Warren Ha. "Because each customer's needs are unique we designed the Multi-function Toolbox to be flexible." The Multi-function Toolbox automatically collects data in real-time from PLCs (Programmable Logic Controllers), CMMs (Coordinate Measurement Machines) and similar plant hardware. The Multi-function Toolbox also enables companies to seamlessly transfer legacy data from other applications or databases, integrate data from manufacturing applications such as Enterprise Resource Planning (ERP), Laboratory Management Systems (LIMS), Supervisory Control and Data Acquisition (SCADA) Systems as well as serve as a communication bridge between (Open Platform Connectivity) OPC servers and the Synergy 2000 OPC client. "For those in the automotive industry, the Multi-function Toolbox also supports the AIAG Quality Measurement Data (QMD) specification as an open exchange format into Synergy 2000 from standard gaging devices," noted Ha.

Our customers are anticipating the new enhancements as well. "We are excited about the release of version 2.0 of the Synergy 2000 Multi-function Toolbox," said Cary Williams, Process Leader for Amantea Nonwovens LLC. "The Synergy 2000 Multi-function Toolbox has made it easier for us to look at our data over time. It has facilitated our continuous process improvement efforts."

Here is a brief highlight of some of the new cutting-edge features:
• Ability to connect to multiple OPC Servers
• Save selected tags as a group in OPC client
• Import data from any database through Open Database Connectivity (ODBC)
• Setup data transfers for multiple Comma-separated values (CSV) files
• Updated to latest version of Microsoft Net 4.0

About Zontec
Zontec is a major world player in the statistical process control (SPC) software market, carrying on a longstanding tradition as one of the first companies to offer SPC software for personal computers in 1983. Today, Zontec is highly respected for its focus on innovation and applying new technologies that help businesses address quality issues, maximize profitability and strive for long-term continuous improvement. Zontec is unique in the industry by offering a full suite of products to meet the needs of companies of all sizes. Zontec software has been adopted worldwide by more than 5,000 companies, spanning virtually every industrial category.

Contact: 
Danei J. Edelen
513.648.9695 ext 204
dedelen@zontec-spc.com