Product News: Sensors Monitors & Transducers
Audible/Visual Alarm works with Wi-Fi-enabled sensors.
Press Release Summary: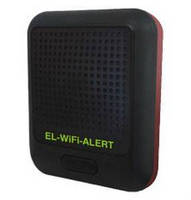 June 19, 2014 - After out of range notification from any FilesThruTheAir™ Wi-Fi sensor device connected to same wireless network, red LED lights of EL-WiFi-ALERT flash through translucent rear molding and alarm sounds. This standalone monitoring accessory consists of audible alarm with built-in speaker (SPL 100 dBA @ 1 m) and can be attached to wall or flat surface. Other features include Wi-Fi signal strength indicator, power supplied via USB or rechargeable lithium polymer battery, and IP55 construction.
Original Press Release
Lascar Introduces Audible/Visual Alarm for its WiFi Sensors
Press release date: June 18, 2014
New EL-WiFi-ALERT Alarms Your Products and Environments
CHESTERLAND OH—CAS DataLoggers has teamed with Lascar Electronics to offer users a standalone monitoring accessory supporting all the sensors in the FilesThruTheAir ™ WiFi range. The new EL-WiFi-ALERT will receive alarm messages from any FilesThruTheAir ™ WiFi sensor device connected to the same wireless network, flashing red LED lights through its translucent rear molding and alarm sounds when a sensor alarm has been triggered. The unit has been designed for users in every industry who need immediate visual and audible alarm notifications in addition to those provided by software or the Cloud site. This low-cost alarming device is available immediately from CAS DataLoggers.
The EL-WiFi-ALERT consists of an audible alarm with built-in speaker (SPL 100dBA @ 1m) which detects alarm triggers from all Lascar EL-WiFi sensors. Users can attach the WiFi-Alert to a wall or flat surface using the bracket provided. The unit's WiFi signal strength indicator helps users find the best placement, and set-up is quick and easy using FREE downloadable EL-WiFi-WIN software. Check out our YouTube Video showcasing the Lascar EasyLog Wifi Software at
https://www.youtube.com/watch?v=oFty8AA9axs
.
The device has been designed to be continuously powered using a USB wall adapter, although it contains a rechargeable lithium polymer battery for device positioning and limited power during the event of a power failure. This way the alarm works 24/7 even when the PC is turned off. The EL-WiFi-ALERT is IEEE 802.11b compliant, supports WEP, WPA/WPA2 and WPA-Enterprise, and is rated to IP 55 protection.
Lascar EL-WiFi data loggers are compact, battery-operated loggers with LED displays that automatically communicate readings back to a PC over the Wi-Fi network, instantly registering alarm breaches on both the device and the PC screen.
Lascar's FilesThruTheAir™ Cloud service is the next generation of data recording, unchaining your sensors from your PC and enabling you to monitor and manage them online from anywhere in the world. View data and configure Lascar WiFi dataloggers from your smartphone, tablet or PC. Now you'll receive an instant email alarm whenever your product or environment exceeds safe limits.
Lascar's new FilesThruTheAir™ is the ideal remote monitoring solution for your business or organization to get into Cloud Storage at a low price. This popular cloud service enables you to: Store Data Online, Receive Email Alerts, Get Access from Your Mobile Device, Monitor Multiple Sites, and Give Multiple Users Secure Access.
The FilesThruTheAir™ Cloud is compatible with Lascar's entire range of EL-WiFi data loggers. The data logger's sensor automatically collects data while the WiFi router sends it to the cloud for storage. This way, data collection, alarming, storage and accessibility are all automated for your convenience. It's easy for users to view data on multiple platforms and devices!
For users who want to send their data online without investing a lot of time or money, FilesThruTheAir is the ideal solution. Send your data to the Cloud today with Lascar dataloggers!
For more information on Lascar's new FilesThruTheAir™ cloud service, to learn more about our low-cost Lascar temperature and humidity data loggers, or to find the ideal solution for your application-specific needs, contact a CAS Data Logger Applications Specialist at (800) 956-4437 or visit the website at
www.DataLoggerInc.com
.
Contact Information:
CAS DataLoggers, Inc.
12628 Chillicothe Road
Chesterland, Ohio 44026
(440) 729-2570
(800) 956-4437
sales@dataloggerinc.com
www.dataloggerinc.com