Asset Management Tool tracks critical drivetrain couplings.
Press Release Summary: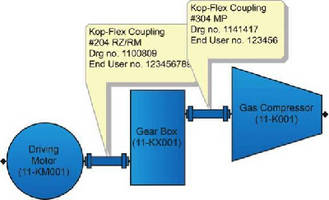 July 16, 2014 - Available as subscription service, Coupling AMP identifies couplings, graphically displays location in specific drive, identifies parts/coupling at site that are interchangeable, and gives detailed service history and action to be taken during service intervals. By clicking on coupling, AMP opens coupling card with all related information, such as end-user stock code, serial numbers, OEM part numbers, Kop-Flex part numbers, BOM, latest revisions of assembly drawing, and installation instructions.
Original Press Release
Introduces Industry's First Online Asset Management Tool for Critical Drivetrain Couplings
Press release date: July 14, 2014
Ideal for petrochemical equipment, turbine generators, and mill drives, system identifies and graphically displays coupling location in drivetrain, with access to latest engineering drawings, repair history, spares inventory and interchangeability info
FLORENCE, Ky., – Emerson's Power Transmission Solutions introduces industry's first online tool for tracking the location, life history and latest revision drawings and installation instructions for all critical drivetrain couplings owned by customers, whether installed or in spares inventory. Developed by Emerson's Kop-Flex business unit, the web-based tool, known as the Asset Management Program (AMP) for couplings, accurately identifies couplings, graphically displays the location in a specific drive, identifies parts/couplings at the site that are interchangeable, makes assembly drawings a click away and gives a detailed service history and action to be taken during service intervals. The Coupling AMP will be introduced and demonstrated at the Turbomachinery Show, September 22-25, in Emerson's booth 1231. The demonstration site is available at
http://amp.emerson-ept.com
, with the login and password of "turbouser." Users can see two plants and two rotating equipment assemblies in each, with sample data.
Developed by a worldwide engineering team experienced in coupling design, maintenance, repair and troubleshooting, the Coupling AMP provides in-depth information on components critical to the operation of major systems such as compressors, turbines or pumps. "Plant engineers plan shutdown maintenance with tight timeframes, yet they struggle to identify couplings by make, model, serial number, stock code, manufacturer's part number, etc.," said Parimal Deshpande, Sr. Industry Specialist for Kop-Flex. "Adding to this disorganization are emergencies. Engineers may take parts from new or old couplings and use them in repairs. This is not only bad practice because of balancing issues, but it makes it almost impossible to track where all these parts went, and what's been stripped from old or new couplings, etc. In a couple of years, they have no idea what's happening.
Moreover, it's very difficult to track the service history of couplings. Customers told us there's no commercially available software designed with a friendly, useful system to organize the needed information the way they'd like to access it. Coupling AMP addresses this void."
Coupling AMP has been carefully built to categorize, display and log information in the exact same way that plant engineers already visualize it. "Engineers sometimes identify couplings by serial number, assembly drawing number or their own stock code," explained Joe Corcoran, Manager, Global Services and Training for Kop-Flex. "For them, we have a search function. More commonly, rotating equipment engineers know the exact location of a coupling by heart, and for these cases there is an 'Equipment Overview' which is the first page after login."
Coupling AMP's custom graphics display specific drive configurations for rotating equipment. By clicking on a coupling, AMP opens a "coupling card" with all related information, such as end-user stock code, serial numbers, OEM part numbers, Kop-Flex part numbers, location of spares or interchangeable parts, bill of material, latest revisions of the assembly drawing, installation instructions and service history. The system also maintains records on customer training, trouble shooting analyses, service reports, and more in a history associated with a specific serial numbered coupling. This information is available 24/7 on the Internet.
Coupling AMP is a subscription service maintained by Emerson. It begins with a survey of a customer's site by a Kop-Flex representative where all relevant data is collected. Kop-Flex then populates AMP and provides a user name and password to the customer. Edits and additions are handled via e-mail to Kop-Flex.
About Emerson
Emerson (NYSE: EMR), based in St. Louis, Missouri (USA), is a global leader in bringing technology and engineering together to provide innovative solutions for customers in industrial, commercial, and consumer markets around the world.  The company is comprised of five business segments: Process Management, Industrial Automation, Network Power, Climate Technologies, and Commercial & Residential Solutions.  Sales in fiscal 2013 were $24.7 billion.  For more information, visit
www.Emerson.com
.
About Emerson Industrial AutomationTM
Emerson Industrial Automation (
www.EmersonIndustrial.com
), a business of Emerson, provides automation and power generation technologies and services to a wide range of industries. With its global capabilities and deep industry expertise, Emerson Industrial Automation is a trusted partner for products and solutions that increase machine performance, efficiency, reliability, and availability. Its industry-leading brands include Appleton®, ASCO®, Branson®, Browning®, Control Techniques, Jaure®, Kop-Flex®, Leroy-Somer®, McGill®, Morse®, Numatics®, O-Z/Gedney, Rollway®, SealMaster®, and System PlastT.  For more information, visit
powertransmissionsolutions.com
.  
Contact
Jackie Catalano
Emerson Industrial Automation
Power Transmission Solutions
jackie.catalano@emerson.com
Tel:  859 727 5271