Product News: Cleaning Products & Equipment
Aqueous In-Line Cleaner features closed-loop design.
Press Release Summary: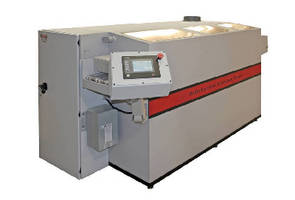 June 29, 2012 - With footprint less than 30 ft², Nanojet(TM) features cycle time of less than 3 minutes, including full chemistry wash, isolation, rinse, final rinse, and dry. Optimal cleaning is assured through Coherent Jets and Progressive Energy Dynamics, which involves increasing energy at each manifold, and vectored jets or fan sprays, depending on cleaning application. Closed-loop system boasts minimal water and chemistry usage.
Austin American Technology Corp. - Burnet, TX
Original Press Release
Austin American Technology's New Nanojet(TM) World's Smallest, Most Powerful In-Line Cleaner - Breaks Performance Records
Press release date: June 12, 2012
Burnet, Texas, USA - AAT's new Nanojet(TM) packs a lot of punch in a small package. As the world's smallest, most powerful in‐line cleaner, Nanojet(TM) occupies a very small footprint - under 30 ft2 (6'x 44"); yet it outperforms much larger cleaners, with a < 3 minute cycle time including full chemistry wash, isolation, rinse, final rinse and dry. Nanojet(TM) is designed and engineered by Austin American Technology Corporation (AAT), a leading global developer and supplier of production cleaning solutions for the electronics assembly, semiconductor, and other industries.
In the Nanojet, AAT has combined highperformance and advanced, highly efficient cleaning and drying capabilities including PED Wash Technology, ISO & Power Rinsing; and a (Displacement) Jet Dryer.
The AAT Nanojet is completely closed-loop, for maximum chemistry recovery, and substantial operational cost and water savings. Nanojet combines high performance with low cost of ownership, and higher productivity; cycle times tested for processing circuit boards completely washed, rinsed, and dried range from under 3 minutes to 10 minutes.
High-performance cleaning is assured through the Nanojet's unique AAT-engineered features, including Coherent Jets, Progressive Energy Dynamics (PED), a revolutionary system that involves a manifold design with increasing energy at each manifold, and vectored jets or fan sprays depending on the cleaning application.
High throughput is assured through faster and better drying by displacement drying vs. slower evaporative with air knives with higher electrical costs. And, the Nanojet is a 'green' efficient closed-loop system boasting minimal water and chemistry usage, incorporating closed-loop washing and rinsing. This configuration saves chemistry costs, increases DI and carbon bed life, saves water, and saves money and operating costs while at the same time saving the environment.
Overall, the Nanojet is designed to maximize performance while minimizing operating costs - Cost modeling with Cost of Cleaning. This makes Nanojet a powerful cleaning system that saves space, is environmentally responsible, and has a very low cost of ownership.
Thoughtfully-designed access makes the Nanojet easy to maintain and service, and the system can be upgraded in the field. For more information about the Nanojet, visit
www.aat-corp.com
.
About Austin American Technology
Founded in 1986, Austin American Technology (AAT) is an innovative, market-leading company, engineering and manufacturing production and assembly systems for the electronics manufacturing industry. With more than 400 years of collective experience in the electronics and semiconductor industries, AAT's production solutions have included hot gas rework and solder paste testing systems, and introduced the world's first automated stencil cleaner in 1988. During the 1990s, AAT developed batch cleaning systems and were early adopters of closed-loop (zero-discharge) capability. In 2000, AAT became a market leader in in-line cleaning systems with the introduction of the award-winning HYDROJET(TM) series, followed by the MICROJET(TM) inline flip chip cleaner to provide high volume cleaning capability in a small footprint. AAT systems are designed to maximize performance and minimize cost of ownership. For more information, visit
www.aat-corp.com
.