Product News: Materials & Material Processing
Anti-Static Film safely cushions electronics during shipping.
Press Release Summary: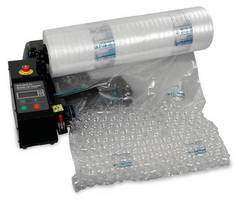 July 16, 2013 - Providing protective packaging solution for shipping static-sensitive electronic products, NewAir I.B.® Anti-Static film meets military specifications for ESD, surface resistivity, and creep performance. This inflatable material maintains cushioning properties throughout shipping cycle and is intended for use on NewAir I.B. Express inflatable cushioning system, which delivers Barrier Bubble® material at 55 fpm in 12 and 24 in. film widths.
Sealed Air Corp., Protective Packaging Div. - Elmwood Park, NJ
Original Press Release
Sealed Air Introduces NewAir I.B.Anti-Static Inflatable Film, a Cushioning Material Ideal for Shipping Electronics
Press release date: July 8, 2013
Saddle Brook, N.J. – Sealed Air today announced availability of the first anti-static cushioning film for use on its NewAir I.B.Express inflatable cushioning system. The new high-performance film is the only inflatable cushioning material on the market meeting military specifications for electrostatic discharge, surface resistivity and creep performance. These properties make NewAir I.B. Anti-Static film the ideal protective packaging solution for shipping static sensitive electronic products.
NewAir I.B. Anti-Static film is produced on the NewAir I.B.Express system which delivers patented Barrier Bubble material at 55 ft. per minute in 12" and 24" film widths - fast enough to keep up with the most demanding packaging operations. The inflated material provides superior product protection and maintains its cushioning properties throughout the shipping cycle. The speed and versatility of the NewAir I.B. Express system easily accommodates small, medium and high-volume packaging operations. The system improves operational efficiency by reducing material handling and required material storage space while providing an on-demand solution for cushioning and blocking and bracing applications.
"The NewAir I.B. Anti-Static material allows us to provide greater value to the expanding global electronics market segment," said David Fitzmaurice, Sealed Air's Inflatable Cushioning Business Manager. "Electronic circuitry is particularly sensitive to static electricity. Companies shipping electronics need packaging solutions that offer static free cushioning that will prevent damage during shipment."
New Air I.B. Anti-Static material also adds a sustainability element to packaging and distribution. The reduction in exposure of products to static results in fewer damaged products, saving fuel and other transportation inputs for returns and re-shipping that otherwise would add to operations' environmental impact.
The compact, all-electric, easy-to-use NewAir I.B. Express system is supported by a large array of system accessories that fit seamlessly into any packaging line, including the Instasheeter™ converting system, the Roll Winder attachment and the JetStream™ overhead delivery system. Ideal for on-line applications, the Instasheeter™ cuts custom or pre-determined lengths of material. The Roll Winder attachment produces 33" bundles of material in less than three minutes for decentralized packaging environments. The JetStream™ overhead delivery system takes material directly from the NewAir I.B. Express system and automatically delivers it to an overhead accumulation bin, virtually eliminating material handling in cellular packaging environments.
For more information on the NewAir I.B. Express inflatable cushioning system and films call 1-800-648-9093 or visit
www.newairib.com
.
About Sealed Air
Sealed Air is a global leader in food safety and security, facility hygiene and product protection. With widely recognized and inventive brands such as Bubble Wrap brand cushioning, Cryovac brand food packaging solutions and Diversey™ brand cleaning and hygiene solutions, Sealed Air offers efficient and sustainable solutions that create business value for customers, enhance the quality of life for consumers and provide a cleaner and healthier environment for future generations. Sealed Air generated revenue of approximately $7.6 billion in 2012, and has approximately 25,000 employees who serve customers in 175 countries. To learn more, visit
www.sealedair.com
.