Product News: Laboratory and Research Supplies and Equipment
Animal Handling Station helps create safer environment.
Press Release Summary: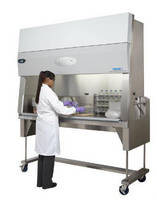 April 29, 2014 - LabGard ES NU-677 Animal Class II, Type A2 Animal Handling Biological Safety Cabinet and Cage Changing Station increases laboratory animal handling safety. Ergonomic, National Sanitation Foundation (NSF)-approved, and ANSI 49-Listed biological cabinet is mobile and height adjustable. Along with 4 optional feed hoppers that allow access to up to 4 unique diets within sterile work zone, features include pre-filter for animal hair and dander and protective aerodynamic air foil for lab workers
Original Press Release
New Animal Handling Station Creates a Safer Environment for Both Animals and Technicians
Press release date: April 16, 2014
PLYMOUTH, Minn. -- The world of laboratory animal handling just became a great deal safer thanks to an ergonomically designed biological cabinet design from NuAire. These next-generation units have already received approval from the NSF (National Sanitation Foundation) and are ANSI 49 Listed.
NuAire, a manufacturer of ergonomic laboratory equipment based in Plymouth, MN, is known for its innovative designs in animal handling enclosures. Now, NuAire is announcing the introduction of a revolutionary cabinet - the NSF listed LabGard ES NU-677Animal Class II, Type A2 Animal Handling Biological Safety Cabinet and Cage Changing Station. It has energized the market with its ability to provide personnel, product, and environmental protection for sensitive animal handling and cage changing procedures.
The most remarkable innovation of this new workstation is its flexibility with options and accessories that allow a safer, more productive work environment for lab technicians. The NU-677 is both mobile and height adjustable, designed for maximum user comfort and adjustability to meet the requirements of the American Disabilities Act (ADA). Because the design incorporates a more usable workspace, it will reduces arm, neck and shoulder strain from repeated use better than any other model on the marketplace.
NuAire garnered the NSF/ANSI 49 listing for biological containment protection for both the operator and product. NuAire routinely validates to ensure maximum protection. The new design incorporates four optional feed hoppers, allowing technicians to access up to four unique diets within a sterile work zone. Also, animal hair and dander is captured in a pre-filter built into the back wall to help extend the working life of the HEPA filters. The result is a safety cabinet that can handle a 300 percent increase in filter loading without a significant reduction in air delivery. Meanwhile, lab workers are protected by an aerodynamic air foil that pulls air back into the front grill, protecting users from air-borne contaminants.
Above all, the advanced mechanics of the ECM motor technology drive down costs of ownership by 40 percent with their energy savings. ECM motors generate less heat and reduce stress on the HVAC systems while operating at lower decibel levels. The LabGard ES NU-677 earns its NSF listing with safety features for both products and personnel.
About NuAire
NuAire has built a reputation as an industry leader in laboratory equipment manufacturing for more than 40 years. It now produces over 100,000 biological safety cabinets in 150 countries around the world. It now serves the needs of the world's growing laboratory community with brilliant and practical designs of outstanding value, backed by exceptional service.
CONTACT:
NuAire
763-553-1270
NuAire@NuAire.com