Product News: Green & Clean
Air Moving Fan creates fresh air flow in trailers at dock.
Press Release Summary: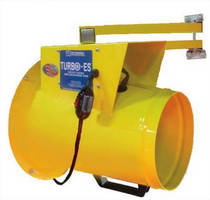 June 19, 2013 - Continuously producing 1,275 cfm in concentrated stream, Turbo-ES™ fan increases airflow in semi-trailer while loading and unloading at warehouse dock. Focused column of fresh air forces hot, cold, or musty air from trailer, promoting work environment safety, comfort, and productivity. Assisted by 1/3 hp, 120 V, 3.0 A motor, fan can be retro-fitted onto existing dock fan's articulating arm and comes standard with protective grill, positioning handle, and 10 ft power cord.
Original Press Release
Curlin Introduces the Energy Saving TURBO-ES(TM) Fan from APS Resource
Press release date: June 5, 2013
Tampa, Fl.  Curlin Inc., a leading Florida material handling systems integrator since 1940, is now promoting the energy efficient Turbo-ES™ fan.  This innovative fan increases airflow in a semi-trailer while loading and unloading at a warehouse dock. The Turbo-ES fan's 1275 CFM output provides more airflow at lower amperage than comparable truck fans on the market.
Assisted by a powerful 1/3 HP, 120V, 3.0 Amp, energy efficient motor, this American made Turbo-ES fan creates a focused column of air that forces hot, cold or musty air from the trailer.
Traditional fans just move the air around. The Turbo-ES fan is different; it creates a continuous stream of fresh air, providing the worker a safer, more comfortable and more productive work environment.
Jeremy Chapman of Curlin states: "Two of the details we like best of this fan is that it concentrates the air to provide a tighter stream and it can be retro-fitted onto the existing dock fan's articulating arm"
The light, compact Turbo-ES fan comes with several standard features, including a protective grill for safety, an easy-grip positioning handle and an extra-long 10' power cord with 3-prong 120V plug.
The Turbo-ES is constructed of durable steel.  It is thermally protected to prevent overheating.  Options include a dual articulating arm for precise positioning and a high impact LED dock light™.
For more information on the Turbo-ES fan or other material handling solutions, call Curlin at 877-643-4968 or visit the Curlin website at
www.curlin.com