Product News: Controls & Controllers
Air Density Trim System manages fuel/air ratio in burners.
Press Release Summary: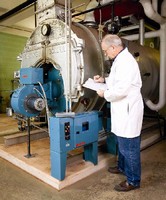 May 30, 2008 - Designed to sense combustion air temperature, Temp-A-Trim(TM) automatically varies burner fan speed to create constant mass airflow, maintaining optimal combustion efficiency in burner, regardless of combustion air temperature. System requires no special setup or programming. Compatible with linkage and linkage-less controls, Temp-A-Trim minimizes noise levels in boiler rooms as well as need for seasonal tuning of burners.
Original Press Release
Webster Engineering Introduces New Temp-A-Trim(TM) Air Density Trim System
Press release date: May 9, 2008
WINFIELD, Kan., - Webster Engineering, a leader in combustion technology and equipment, introduces the new Temp-A-Trim(TM) air density trim system. The Temp-A-Trim(TM) system efficiently manages the fuel/air ratio in industrial and commercial burners, to create dramatic fuel savings of up to three percent. Temperature changes in a boiler room, from day to night and season to season, cause significant combustion inefficiencies, and at the same time, combustion stability is degraded. The new Temp-A-Trim(TM) system senses combustion air temperature and automatically varies burner fan speed to create a constant mass airflow. This constant mass airflow maintains optimal combustion efficiency in the burner, regardless of the combustion air temperature. Further savings are generated as a result of reduced electrical usage. Additional features and benefits of the Temp-A-Trim(TM) system include: Easy installation, with no special setup or programming required Reduces need for costly seasonal tuning of burners Reduces noise levels in boiler rooms Compatible with linkage or linkage-less controls Provides lower cost, complexity and maintenance than typical O2 trim systems
An attached graph illustrates typical fuel savings on a Webster burner. A photo of a Webster Engineering Burner with Temp-A-Trim(TM) system is also attached. For more information on Temp-A-Trim(TM), contact Webster Engineering at (620) 221-7464, or sales@webster-engineering.com. Or visit the Web site at
www.webster-engineering.com
. CONTACT: Ted Wrona, President Webster Engineering & Mfg. 619 Industrial Rd. Winfield, KS 67156 (620) 221-7464 twrona@webster-engineering.com