Adjustable Aluminum Ladder helps keep trucks clear of ice/snow.
Press Release Summary: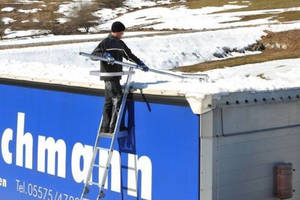 December 18, 2012 - Featuring stand-on platform with non-slip surface, portable de-icing ladder enables removal of sheets of ice or snow from truck roofs. Ladder can be adjusted to height of truck and is designed for safe operation. Securing strap prevents ladder from slipping away from vehicle, UltraGrip rung profile promotes safe climbing, and back-guard hoop provides additional safety for clearing work. To avoid damage during de-icing, top is fitted with tarpaulin protection profile.
Original Press Release
Mauderer De-icing Ladder: Free of Ice - Free to Drive
Press release date: December 13, 2012
LINDENBERG, Germany -- Sheets of ice or snow that fall from truck roofs in the winter represent an incalculable risk to all road users. The result is all too often accidents that involve serious personal injury, or at least damage to other vehicles. To avoid this situation, drivers are obliged to remove ice and snow from their vehicles before they start their journey. Until now this was almost impossible to do because the truckers simply had no suitable equipment. Today, Mauderer Alutechnik from Lindenberg, Germany introduces an innovative solution to the market, the de-icing ladder for portable use (patent pending).
Now any truck can be freed of sheets of ice and snow quickly and safely-wherever the vehicle may be.
In the development of this equipment, Mauderer paid particular attention to its safe and ergonomic operation. The lightweight aluminium construction can be adjusted to the height of the truck. A securing strap prevents the ladder from slipping away from the vehicle. The UltraGrip rung profile makes it safe to climb the ladder. The stand-on platform is out of this absolutely non-slip surface. A back-guard hoop provides additional safety for the clearing work. To avoid damage during de-icing, the top of the ladder is fitted with a tarpaulin protection profile. The de-icing can be used also as a free-standing stepladder, for example to tighten the truck's roof cover. The system comes with a tarpaulin-friendly snow pusher.
Along with the de-icing ladder for portable use, Mauderer also offers a de-icing platform and stages (
www.mauderer.de/en/products/bavaria-alu-systems/de-icing-products.php).
These are used mainly on freight yards and motorway service areas-wherever the fast, safe and efficient de-icing of the trucks is essential. All of the Mauderer de-icing products can be ordered directly from the manufacturer.        
Mark Mauderer
Tel. +(49)8381/9204-24
mark.mauderer@mauderer.de