Adapter Fittings connect metric to imperial threads.
Press Release Summary: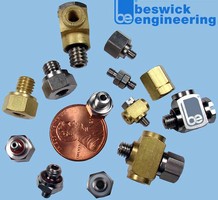 December 6, 2006 - Miniature fittings adapt Imperial/English threaded components to metric threaded components. Products include M3 Internal to M5 External; M3 External to M5 External Nipple Fitting or M3 Internal Extension Fitting; and M3 External Universal Nipple Fitting. Also available are 10-32 External to M3 or M5 Internal; 10-32 Internal to M5 Internal or M6 External; and 10-32 or M5 Internal to M3 External Fittings. Additional types are available.
Beswick Engineering Co., Inc. - Greenland, NH
Original Press Release
Miniature Adapter Fittings - Metric to Imperial Threads
Press release date: November 17, 2006
Beswick Engineering designs and manufactures high-performance miniature fluid power devices. Markets for most "high tech" products have become global. To better serve this global marketplace, many Original Equipment Manufacturers (OEMs) are attempting to specify metric fluid power components in their new product designs. OEMs typically try to switch completely to metric threaded components however often this goal is more difficult than it initially appears as many critical components continue to be offered only with imperial threads. For this reason, adapter fittings become critical to OEM design engineers responsible for specifying fluid power products. Beswick introduces a series of new miniature adapter fittings for connecting metric to imperial threads. These new adapter fittings include the following: · M3 Internal to M5 External - (MFA-M5M3-303) · M3 External to M5 External Nipple Fitting - (PN# MN-M3M5-303) · M3 External Universal Nipple Fitting - (PN# M3UN-303) · M3 External to M3 Internal Extension Fitting - (PN#M3EB-303) · 10-32 External to M5 Internal Fitting - (PN MEB-10M5-1) · 10-32 or M5 Internal to M3 External Fitting - (PN MFA-M3 series) · 10-32 External to M3 Internal - (MFA-10M3-303) · 10-32 Internal to M6 External - (MFA-M610- series) · 10-32 Internal to M5 Internal - (MF-M5M5 series) · M5 External to 10-32 Internal Elbow - Adjustable Position - (PN# M5LS-10) · M6 External to 10-32 Internal Elbow - Adjustable Position - (PN# M6LS-10) The new adapter fittings are relatively simple components but are critical to OEM design engineers for adapting Imperial/English threaded components to metric threaded components. Applications include: fuel cell industry, medical and dental equipment, instruments, laboratory equipment, semiconductor manufacturing equipment, aerospace equipment, packaging machinery, industrial robots and many more. For more information, please contact: Mike Donati Beswick Engineering Co., Inc. 284 Ocean Road, Greenland, NH 03840-2442 USA Phone: +1 603.433.1188 Fax: +1 603.433.3313 E-mail: mdonati@beswick.com Website:
www.beswick.com