Product News: Electrical Equipment & Systems
AC-DC Power Supplies feature I2C bus communications.
Press Release Summary: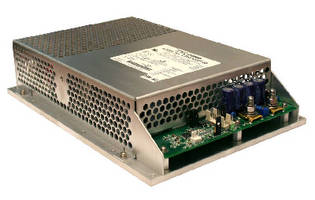 January 10, 2012 - Providing up to 1,000 W without fans or forced-air cooling, CPFE1000F Series delivers audible noise-free operation. Single-output, baseplate/conduction-cooled units operate with universal input of 90-265 Vac and deliver DC outputs of 12, 28, or 48 Vdc. Internal I2C bus interface can send operational parameters of power supply to remote locations. With baseplate and ambient operating temperature of -40 to +85°C, power supplies are suited for harsh indoor/outdoor environments.
TDK-Lambda Americas Inc. - National City, CA
Original Press Release
Conduction-Cooled 1000 Watt Power Supplies Feature I2C Bus Communications
Press release date: January 9, 2012
No Fans - No Audible Noise San Diego, CA - TDK-Lambda Americas, a group company of the TDK Corporation, has launched the new CPFE1000F series of baseplate/conduction-cooled power supplies capable of providing up to 1000-watts without fans or forced-air cooling, thereby providing audible-noise-free operation. With a baseplate and ambient operating temperature range of from -40 up to +85°C this new series of AC-DC power supplies will be of special interest to designers who need high-power but cannot use fans, or where the power supply is mounted in an enclosure. These single output power supplies operate with a wide universal input range of from 90 to 265VAC with PFC and are available with DC outputs of 12V, 28V (adjustable to 24V) or 48VDC. Due to its wide output adjustment range of +/- 20%, the output voltage can be set to match a variety of customer-specific applications. The outputs of these units can be con-nected in series or parallel for higher power applications. The CPFE1000F series was designed for harsh indoor or outdoor environments and are ideal for such applications as LED signage, RF broadcast, COTS-military, noise-sensitive Audio/Video equipment, food processing and other industrial/commercial applications. The power supply's baseplate is designed to easily attach to metal enclosures or other heat-sinking surfaces, thus eliminating the need for fans or forced-air-cooling. To guard against moisture, dust and other containments, the internal PCB assembly has a protective coating. A distinguishing feature of the CPFE1000F series is its internal I2C bus interface which can send operational parameters of the power supply to remote locations. These parameters include: output voltage, output current, baseplate temperature, serial number, model number and date-code. In addition, the I2C interface provides a means to turn the power supply On or Off from a remote site and receive DC Good and over-temperature signals. In addition to the I2C bus, traditional signals/controls are provided including an Output Good signal, Remote On/Off control, Remote-Sense lines, Active Current-Share, and an Auxiliary-Output of 12V/20mA. All models in the CPFE1000F series include TDK-Lambda's two-year warranty and meet EN55022/EN55011 Class B and MIL-STD 461/462D CE102 EMC specifications, thereby simplifying system designs. In addition, these supplies meet shock and vibration specs per MIL-STD-810E under operating and non-operating conditions. "Power supplies that meet the tough EMI specs per MIL-STD 461/462D, plus shock and vibration specs per MIL-STD-810E, are often custom-designs and can cost up to 10 times the price of the CPFE1000F," says David Norton, V.P. of Marketing for TDK-Lambda Americas. "The CPFE1000F provides a very reasonably priced COTS power solution. In addition, these units feature a lightning surge capability of up to 6kV and an input-to-output isolation of 4.25kVdc, ensuring the supplies will be both rugged and reliable," says Norton. The new 1000-watt baseplate/conduction-cooled CPFE1000F models are available now and priced at $825.00 each in 50 piece quantities. More information can be obtained at the following TDK-Lambda Americas web link:
www.us.tdk-lambda.com/lp/products/CPFE-series.htm
or by calling 1-800-LAMBDA-4. About TDK-Lambda Americas
TDK-Lambda Americas, a group company of TDK Corporation, is a leading global electron-ics company and has been a major provider of power solutions for over 60 years. The company designs and manufactures a wide range of AC-DC and DC-DC power products for Medical, Industrial, Communications and Test & Measurement applications worldwide. For more information, call TDK-Lambda Americas directly at 619-575-4400 or visit the website at
www.us.tdk-lambda.com/lp