Product News: Mechanical Power Transmission, Architectural and Civil Engineering Products
Wind Turbine Tower affords storage space, builds to 139 m.
Press Release Summary: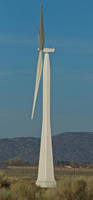 March 18, 2014 - Intended for multi-megawatt wind turbines, space frame tower is assembled at wind farm locations and wrapped in weather-resistant architectural fabric. Base is supported by 5 legs positioned to optimize available space at tower base for storage within turbine in order to facilitate maintenance, site organization, and balance of plant. Enclosed lattice design, enabling towers to be built in previously inaccessible locations, also offer maintenance-free bolting system.
Original Press Release
GE Launches Advanced Technology Space Frame Tower for Wind Turbines
Press release date: March 10, 2014
Space Frame Tower Provides Cost-Effective Way to Go Taller in New Locations
Enclosed Lattice Tower Available on GE's Multi-Megawatt Wind Turbine Platform
Up to 139-Meter Space Frame Tower Shipped on Standard Trucks and Ocean Vessels for Logistics Ease

BARCELONA, SPAIN — Today, GE's (NYSE: GE) renewable energy business announced the introduction of its new space frame tower for multi-megawatt wind turbines at the European Wind Energy Association's annual conference in Barcelona, Spain. The five-legged enclosed lattice tower from GE enables towers up to 139 meters to be built more cost-effectively in never before accessible locations, using a logistics-friendly model of standard shipping methods and on-site assembly.

"The space frame tower helps our customers go taller in new locations, further enabling the growth of wind energy," said Cliff Harris, general manager of GE's renewable energy business in Europe. "This next innovation in wind turbine technology is a stepping stone towards towers taller than 150 meters in Europe. GE will continue to drive innovation and advanced technology for the wind industry in the coming years."

The space frame tower is being introduced with GE's new 2.75-120 wind turbine and was demonstrated in a full-scale turbine at GE's prototype site in Tehachapi, Calif. The lattice tower is assembled at wind farm locations and then wrapped in an architectural fabric to provide familiar solid structural aesthetics. The tower improves serviceability with increased space down-tower, maintenance-free bolting system and custom methods and fixtures for efficient installation and dismantling.

The space frame tower features a wide base supported by five legs that provide more room at the base of the tower than a traditional tubular tower. The additional down-tower space allows for storage within the turbine for ease in maintenance, site organization and balance of plant. Parts manufacturing can be automated with the space frame tower to optimize quality control of the structure. The fabric casing is durable, weather resistant and does not need to be replaced during turbine life.

The space frame tower is a product of GE's technology evolution and investment. GE has invested more than $2 billion into renewable energy research and development to continually provide customers with the most advanced wind technology available and position wind as a mainstream energy source.

About GE
GE (NYSE: GE) works on things that matter. The best people and the best technologies taking on the toughest challenges. Finding solutions in energy, health and home, transportation and finance. Building, powering, moving and curing the world. Not just imagining. Doing. GE works. For more information, visit the company's website at www.ge.com.

About GE Power & Water
GE Power & Water provides customers with a broad array of power generation, energy delivery and water process technologies to solve their challenges locally. Power & Water works in all areas of the energy industry including renewable resources such as wind and solar; biogas and alternative fuels; and coal, oil, natural gas and nuclear energy. The business also develops advanced technologies to help solve the world's most complex challenges related to water availability and quality. Power & Water's six business units include Distributed Power, Nuclear Energy, Power Generation Products, Power Generation Services, Renewable Energy and Water & Process Technologies. Headquartered in Schenectady, N.Y., Power & Water is GE's largest industrial business.

Follow GE Power & Water and GE's renewables business on Twitter @GE_PowerWater and @GErenewables.

Media contacts:

GE news
Masto Public Relations
Email: information@mastopr.com

Katelyn Buress
GE Renewable Energy
Phone: +1 518 362 6154
Email: katelyn.buress@ge.com

Beth Coffman
Masto Public Relations
Phone: +1 518 786 6488
Email: beth.coffman@mastopr.com

Howard Masto
Masto Public Relations
Phone: +1 518 786 6488
Email: howard.masto@ge.com