Product News: Electronic Components & Devices
Wi-Fi Module incorporates 802.11b/g/n standards.
Press Release Summary: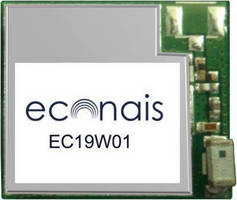 April 11, 2014 - Measuring 14 x 16 x 2.8 mm, Model EC19W01 features fully integrated MCU, Wi-Fi, cloud connectivity, flash, and antenna that is fully certified by FCC, EC, IC, and TELEC. SiP module incorporates variety of features, including AirPlay, Wi-Fi Direct, ProbMe™ configuration, and full TCP/IP stack as well as HTTPS/SSL, DHCP Client/Server, WPS, legacy Wi-Fi Client, and SoftAP modes with WPA/WPA2 support. Module simplifies smart home, M2M, and IoT device design and development.
Original Press Release
Econais Launches the World's Smallest, Smartest and Most Integrated Wi-Fi (SiP) Module
Press release date: April 2, 2014
Highly Integrated Hardware/Software and Low Standby Power Requirements Simplify Smart Home, M2M and IoT Device Design and Development

SAN JOSE, Calif.,  -- Econais Inc., the technology leader in smart ultra low power miniature Wi-Fi module solutions for the Internet of Things, today announced the EC19W01, world's smallest, smartest and most integrated 802.11b/g/n Wi-Fi System In Package (SiP) module.  The EC19W01 offers low power drain and features fully integrated MCU, Wi-Fi, cloud connectivity, flash and antenna that is fully certified FCC, EC, IC, and TELEC.  Think WiSmart.

The EC19W01 incorporates the latest Wi-Fi 802.11b/g/n standards and features to give designers a full array of options for embedding the module in their designs to get their devices on the internet and in the cloud as smartly as possible.  Fully certified with FCC, EC, IC, and soon TELEC.  Features include AirPlay, Wi-Fi Direct, ProbMeTM configuration, full TCP/IP stack, HTTPS/SSL, DHCP Client/Server, WPS, legacy Wi-Fi Client and SoftAP modes with WPA/WPA2 support, Serial to Wi-Fi, Cloud Service Support, and more. Very compact, the EC19W01 is 14x16x2.8mm in size.

"The EC19W01 makes it easy to quickly design a Wi-Fi equipped device that connects to the cloud," said Dimitris Leonardos, VP of Product Management of Econais Inc. "With Econais' extensive libraries of software to shorten the design cycle and customize connections, our  plug and play modules enable device developers to quickly, inexpensively, and globally get their products connected to the internet."

Engineering samples and production quantities of the EC19W01 are available now.   The EC19W01 Development Kit (EC19W01EVB) is also available from Econais and through their global representative and distribution network of partners.

About Econais Inc:
Econais is a module manufacturer and solutions company building ultra-low power connectivity module-based solutions to address the expanding Internet of Things (IoT) and Machine to Machine (M2M) markets. WiSmart modules integrate 32bit MCU, Wi-Fi, and cloud connectivity with full libraries of software.  Econais' easy-to-use modules and software enable customers to leverage the globally installed base of Wi-Fi access points and smartphones to create connected smart products for healthcare, smart energy, audio, consumer and control/monitoring in industrial, commercial and residential markets. http://www.econais.com

Company Contact
Brent Ward
Marketing
(919) 345-2336
bward@econais.com

RELATED LINKS
http://www.econais.com
Twitter: http://www.twitter.com/econais
Facebook: http://www.facebook.com/econais
LinkedIn: http://www.linkedin.com/company/econais
Google Plus: https://plus.google.com/+Econais
YouTube: http://www.youtube.com/user/eConaisWiFi
Pinterest: http://www.pinterest.com/econais