Wheelchair Cushion provides skin protection and stability.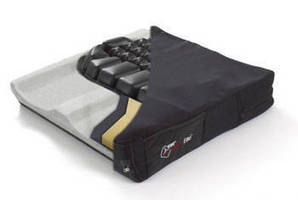 Wheelchair Cushion provides skin protection and stability.
October 18, 2010 - ROHO® Hybrid Elite® Cushion features ROHO DRY FLOATATION® that provides pressure redistribution around pelvis. Jay® contoured foam base offers stability that assists person in safely transferring in and out of wheelchair. Available in single- or dual-compartment versions, product weighs 3.5 lb, based on 17.75 x 18.75 in. size; fits chair widths from 14-24 in.; and has weight limit of 500 lb. Air cushion insert cleans with soap and water and cover is machine washable.

(Archive News Story - Products mentioned in this Archive News Story may or may not be available from the manufacturer.)
Original Press release

The Roho Group, Inc.
100 N. Florida Ave.
Belleville, IL, 62221
USA



Roho® Hybrid Elite® Cushion


Introducing the NEW! ROHO® Hybrid Elite® Cushion - the wheelchair cushion that combines the superb skin protection and shape matching ability of ROHO DRY FLOATATION® with the stability of Jay® base technology. The new cushion design allows for improved pelvic alignment and stability for improved position and function while maintaining optimal immersion and envelopment of both the ischial tuberosities and greater trochanters. The ROHO shape fitting cushion provides critical pressure redistribution around the pelvis area providing you with superior skin protection that ROHO is known for. Simply adjust the cushion to fit the client's shape in order to minimize tissue deformation and maximize blood flow.

The ROHO® Hybrid Elite®'s Jay® contoured foam base engineered specifically for ROHO, provides improved positioning of the pelvis and lower extremities, enhancing sitting posture. This added stability assists the person in achieving safer transfers in and out of his or her wheelchair.

Available with single or dual compartment cushions.

Two trusted brands. One effective cushion. ROHO gives you more choices.

The ROHO® Hybrid Elite® Cushion is recommended for clients who:

o are at a moderate to high risk for skin breakdown

o require pelvic and lower extremity positioning

o have difficulty with lower extremity positioning and alignment

o have asymmetrical postures and need front to back or side to side positioning (dual compartment sizes applicable)

Lightweight: Varies by size; approximately 3.5 lbs./ 1.5 kg (based on 17.75" x 18.75" size)

Washable: Air cushion insert is easily cleaned with soap and water. Cover with encased comfort foam is machine washable. Foam base may be wiped with damp cloth.

Repairable: Neoprene rubber cushion insert can be patched or repaired to extend use.

Construction:

ROHO cushion: flame-resistant, neoprene rubber

Customized Jay contoured foam base: flame-resistant, fluid-resistant closed cell foam

Sizes:

Wide range, to fit chair widths 14" to 24"/35cm to 60cm

Weight Limit:

500 lbs / 225 kg

Warranty:

24-month limited

Medicare Part B code:

K0734 and K0735, Adjusted Skin Protection Wheelchair Cushion

* All measurements are approximate

---
User comments about this story
relationship
wishing for Agent and dealership in Korea, and awaiting your kindest and early reply.
Thanks.
Shitae, Yoo/
for YOO MEE TRADING CO., LTD.
FAX.; 82-31-904-6491
By
Shitae, Yoo on Oct 20, 2010 02:00
Reply to this comment
See related product stories


Start Your

Free


Subscription to


Industry Market Trends

.