Product News: Test & Measuring Instruments, Sensors, Monitors & Transducers
WVTR Instrument measures ultra-high barrier films.
Press Release Summary: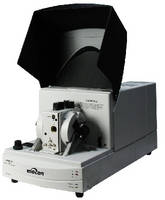 February 22, 2013 - Using proprietary technology to measure water vapor transmission rate down to 5x10-5 g/(m²-day), AQUATRAN® Model 2 targets ultra-high barrier structures such as flexible films for OLEDs. Instrument utilizes AquaTrace® Gold coulometric sensor which is based on Faraday's Law. Every water molecule entering sensor is directly converted to measureable charge. No calibration is necessary, assuring accurate test result. With TruSeal™ technology, seal-edge leaks due to ambient humidity are minimized.
Original Press Release
Mocon Unveils WVTR Instrument for Ultra-High Barrier Films with Greater Sensitivity Than Ever before Possible
Press release date: February 14, 2013
Minneapolis, Minn. – MOCON, Inc. (NASDAQ: MOCO), the world's leading manufacturer of package integrity instrumentation, is launching a new system to measure the water vapor transmission rate (WVTR) of ultra-high barrier films with greater sensitivity than ever before possible. 

The new generation AQUATRAN® Model 2 WVTR measurement instrument targets commercial or developmental ultra-high barrier structures which are being engineered to push the performance envelope.  These include flexible films for organic light-emitting display (OLED), solar and similar demanding applications, which require accurate and extremely sensitive instrumentation to build performance statistics.

The AQUATRAN® Model 2 uses proprietary technology to accurately and repeatably measure WVTR down to 5x10-5 g/(m2-day). This is one order of magnitude lower than its very successful predecessor the Model 1 which was launched in 2005. 

The Model 2 uses propriety technology to increase sensor sensitivity and reduce the possibility of ambient humidity interfering with test results.  Further, the AQUATRAN® Model 2 is the only system available for measuring trace WVTR that is not calibration dependent, providing more accurate and repeatable results.

The AQUATRAN Model 2 utilizes MOCON's newest AquaTrace® Gold coulometric longer-life sensor which is based on Faraday's Law. Every water molecule entering the sensor is directly converted to a measureable charge.  No calibration is necessary, assuring an accurate test result.

Transient data also is quantifiable and can be viewed during or after the test. (Analysis of transient data can yield important information about an OLED structure such as detecting defects and voids in the applied coatings.)

Additional enhancements to the AQUATRAN® Model 2 include improved electronics,  enhanced block and valve design, and the introduction of TruSeal™ technology which reduces seal-edge leaks due to ambient humidity.

The AQUATRAN® Model 2 is available in two versions. The G system operates between 35 and 90 percent relative humidity (RH) and a temperature range of 10 to 40 Centigrade.  The W version offers 100% RH and a temperature range 10 to 50 Centigrade.

About MOCON
MOCON is a leading provider of instrumentation and consulting and laboratory services to medical, pharmaceutical, food and other industries worldwide.  See www.mocon.com for more information.

Contact info:
Guy Wray       
MOCON, Inc.      
7500 Mendelssohn Ave. North 
Minneapolis, MN 55428 U.S.A.  
Phone: (763) 493-7228  
Email: gwray@mocon.com