Product News: Machinery & Machining Tools
Vertical Honing Machines offer selectable tool-feed.
Press Release Summary: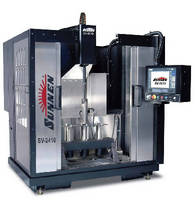 January 10, 2013 - With updated servomotor and drive technology, Models SV-1000, SV-400, and SV-500 models are being replaced with Models SV-2000, SV-2400, and SV-2500. Range of machines can process bore IDs from 3–300 mm, typically found in parts such as fuel injectors, piston pumps, gun barrels, and hydraulic components. Upgraded models feature 7.5 kW/10 hp servo spindle, constant crosshatch angle, automatic bore detection, and safe-drive technology, which monitors safety devices on machine with separate PLC.
Original Press Release
Upgraded Vertical Honing Machines Introduce New Capabilities, Higher Accuracy/Safety and New Model Designations
Press release date: January 9, 2013
New servo technology for spindle, stroker, and tool-feed add new capabilities to reduce cycle time and expand processing options. Obsoleted SV-1000, SV-400 and SV-500 series replaced by SV-2000, SV-2400, and SV-2500 series.

Sunnen Products introduces new servomotor and drive technology under the hood of its three primary vertical honing platforms, bringing additional capabilities, speed, accuracy and safety to the machines. As a result, the company's existing SV-1000, SV-400 and SV-500 models are being replaced with the SV-2000, SV-2400 and SV-2500 series of machines that feature the same outward appearance as the predecessor models. The various new models have upgraded capabilities such as selectable tool-feed, constant crosshatch and faster automatic bore detection for reduced cycle times. The SV-2000 and SV-2400 machines are already in production, while remaining SV-400 and 500 models will be replaced later this year. The range of machines can process bores ID's from 3 mm to 300 mm, typically found in parts such as fuel injectors, piston pumps, gun barrels, hydraulic components, engine/compressor cylinders, diesel cylinder liners, landing gear and similar.

All of the new models now include a 7.5 kW (10 hp) servo spindle. The new SV-2000 platform offers a new choice of controlled-force or controlled-rate tool feed. Controlled-rate allows automatic tool feed in increments as fine as 0.1 µm (0.000010"). Controlled-force tool feed monitors force in the tool feed system. It feeds the abrasive at the highest rate possible for part conditions, ensuring shortest cycle times and longer abrasive life.

The new SV-2400 platform now includes selectable "constant spindle load" and controlled-rate tool feed as standard.

Other new capabilities on the upgraded models include whole-bore, constant crosshatch angle. Constant crosshatch eliminates the "flattening" of the crosshatch angle at stroke-reversal points, a feature required by some engine manufacturers and MilSpec parts. The new drive technology also enables the machines to be setup to hone only on the pull stroke, or easily produce custom profiled and tapered bores.

All the new platforms include safe-drive technology that monitors all safety devices on the machine with a separate PLC, which stops or limits the speed of the drives if triggered.

For additional information, contact: Sunnen Products Company, 7910 Manchester Rd., St. Louis, MO 63143.  Tel: 1-800-325-3670; fax: 314-781-2268 or email sales@sunnen.com.

Sunnen Contact
Mr. Bob Davis
Global Communications Mgr.
Sunnen Products Company
7910 Manchester Ave.
St. Louis, MO  63143
Tel: 314.781.2100
bdavis@sunnen.com