Product News: Vision Systems, Electrical Equipment & Systems, Electronic Components & Devices
Utilities LED Panel Light has life span of 100,000+ hours.
Press Release Summary: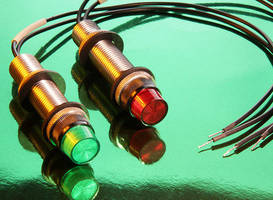 March 3, 2014 - Available in 110–125 Vac or 120–140 Vdc voltage ranges, PNL-1145 Series consumes 0.5 W and replaces incandescent high-voltage panel indicators. These short thread body LED panel mount lamps come in 520 nm Aqua Green and 637 nm Super Red and have 100,000+ hr typ life span. Construction includes fixed LED, removable transparent lens, threaded metal shaft, and adjustable nuts and washers. Latter enable lamp to be front- or rear-mounted in panels up to 1.10 in. thick with Mtg Dia of 0.63 in.
Original Press Release
Direct Replacement LED Lamps for GE ET5/6 Series Incandescent Panel-Mount Lamps
Press release date: February 26, 2014
Torrance, Calif. — LEDtronics, Inc., adds a new Utilities LED Panel light to its PNL-1145 Series. These short thread body LED panel mount lamps only consume a half watt of power and replace incandescent high voltage panel indicators, such as GE ET5, ET6. They are designed to go in panels found in Transmission Station Control Panels, Control Rooms, Sub-Station control rooms of power plants and utilities.

These energy-efficient and long-lived LED illuminators feature a fixed LED and removable transparent lens, a threaded metal shaft, and adjustable nuts and washers that enable the lamp to be front-mounted or rear-mounted in panels up to 1.10 inches thick with an Mtg Dia of 16mm (0.63"). Additionally, 13-inch, 22-gage wire leads are provided for screw or soldered connections.

The PNL-1145 series LED Panel Lights are designed with integrated series resistor to prevent short-circuiting; special fuses are unnecessary. They are also designed with a Bipolar Polarity circuitry to expedite integration into the electrical system. PNL-1145 LED lamps are available in 110~125 VAC or 120~140 VDC voltage ranges. LED light colors offered are 520nm Aqua Green (PNL-1145-013) and 637nm Super Red (PNL-1145-011). Utility monitors, industrial designers and maintenance departments will find these lights to be excellent solutions for maintenance-intensive and critical-process applications.

With an average life span of 100,000-plus hours (11 years), LEDs operate reliably year after year. Solid-state design renders LEDs impervious to electrical and mechanical shock, vibration, frequent on-and-off switching and environmental fluctuation. Integrated current-limited resistors prevent short-circuiting. LED lamps use only 10% - 20% of the energy consumed by equivalent incandescent lamps that, when combined with their maintenance-free operation, results in substantial cost savings.

Prices for PNL-1145 Series LED Lamps are $28.45 each, depending on quantity. Availability is stock to 4-6 weeks for special requirements.

For additional information, contact LEDtronics toll free at 1-800-579-4875, telephone 310-534-1505, fax at 310-534-1424, email us at info@ledtronics.com or postal mail at LEDtronics, Inc., 23105 Kashiwa Court, Torrance, CA 90505; or visit our website at LEDtronics.com.

About LEDtronics®
Based in Torrance, California, LEDtronics, Inc., since 1983 has been a world leader in designing, manufacturing and packaging Solid State Lighting products and state-of-the-art LED's to meet the world's constantly changing lighting needs—from industrial control panel LED indicator lights to solid-state LED street light fixtures, High-Bay, Flood Light fixtures, from direct incandescent- replacement based LED bulbs to direct fluorescent-replacement T8 and CFL LED tube lamps.

For more details and technical data, visit the direct web link at:
http://tinyurl.com/mvs3tyq

For Technical Information or if you have custom design and/or manufacture needs,
Contact: Jordon Papanier at 310-534-1505 or e-mail us