Product News: Computer Hardware & Peripherals
USB Flash Drive is resistant to high temperatures and humidity.
Press Release Summary: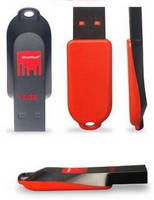 April 13, 2012 - Operating from 0 to +70°C in humidity levels from 20%-90%, shock-resistant Pollex USB drives are compatible with USB specification revisions 1.1/2.0/3.0 and support Windows®, MAC OS, and Linux Kernel. Capacities of 4, 8, and 16 GB are available, and each portable, removable, solid-state storage device measures 48.2 x 17.4 x 12.2 mm. Drives offer hot plug-and-play functionality and support data transfer rates to 12 Mbps for USB 1.1 and 480 Mbps for USB 2.0.
Original Press Release
Strontium Introduces New Pollex USB Flash Drive in India
Press release date: April 1, 2012
~ Supports Windows, MAC OS and Linux Kernel Versions~ ~Compatible with USB specification revision 1.1, 2.0 & 3.0~
New Delhi: Strontium Technology, a leading PC and flash memory manufacturing company, unveils shock resistant and robust designed, Pollex USB Flash Drives in India. Pollex USB Drives support Windows ME, Windows 2000, Windows XP, Windows Vista, Windows 7 without device driver and is compatible with USB specification revision 1.1, 2.0 & 3.0.
Available in dimensions 48.2X17.4X 12.2 mmH, and 4GB, 8GB, 16GB the Pollex USB Flash Drives has durable solid-state storage of 10 years data retention. With an ultra-compact design, this portable removable flash disk drive comes with USB connection which supports various storage capacities. Pollex USB is a plug and play device with high speed data transfer rate up to 480Mbits/sec for USB 2.0 and a full speed up to 12Mbits/sec for USB 1.1.
Features
Shock resistant and robust design
Compatible with USB specification revision 1.1, 2.0 & 3.0
Support Windows ME, Windows 2000, Windows XP, Windows Vista, Windows 7 without device driver
Support Windows 98 / 98 SE with device driver
Support MAC OS 9.X and later without device driver (USB 1.1 speed)
Support MAC OS 10.2.8 and later without device driver (USB 2.0 speed)
Support Linux Kernel ver. 2.4.0 or above without device driver (USB 1.1 speed)
Support Linux Kernel ver. 2.4.10 or above without device driver (USB 2.0 speed)
Hot Plug & Play
Durable solid-state storage
No external power is required
DC 4.5V ~ 5.5V from USB port
High speed data transfer rate up to 480Mbits/sec for USB 2.0
*Full speed up to 12Mbits/sec for USB 1.1
Low Power consumption
Operating temperature: 0°C ~ 70 °C
Humidity: 20% to 90%

Pricing and Availability: Available in a classic black and red combination, and with 4GB, 8 GB and 16GB capacities, the Pollex USB Drives are available at a street price of Rs. 249/ - Rs .349/- and Rs. 649/- respectively. The products are available with all the authorized distributors of Strontium. For further info on the product please visit http://www.strontium.biz/products/usb-drives

About Strontium Technology:

Strontium Technology Pte Ltd is a PC and flash memory manufacturing company, having its headquarters in Singapore. Today, it's operations span to varied territories across Australia, New Zealand, South East Asia, India, US, Canada and Latin America. In total, the company maintains a strong market presence in over 30 countries. Strontium Technology serves an international network of distributors, resellers, retailers and OEM customers