Product News: Computer Hardware & Peripherals, Controls & Controllers, Electronic Components & Devices, Green & Clean
ULP FRAM MCUs enhance metering, health/fitness, wearable designs.
Press Release Summary: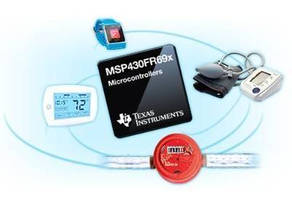 September 4, 2014 - Enabling developers to reduce power consumption, materials, and product size, MSP430FR69x products are scalable up to 128 KB non-volatile FRAM memory. Products include smart analog integration, such as extended scan interface (ESI) and differential input ADC that consumes as little as 140 µA at 200 KSPS. Developers can also leverage integrated 320-segment LCD controller to add display to their products and 256-bit AES hardware accelerator to increase security of data transmissions.
Original Press Release
Texas Instruments Expands World's Lowest Power Microcontroller Portfolio to Take Your Metering, Health and Fitness and Wearables Designs to the Next Level
Press release date: August 28, 2014
Leverage ultra-low-power MSP430FR69x FRAM microcontrollers with integrated smart analog, extended scan interface, LCD controller and up to 128 KB memory

DALLAS – Enabling developers to reduce power consumption, bill of materials and product size, Texas Instruments (TI) (NASDAQ: TXN) today released 46 new ultra-low-power MSP430™ FRAM microcontrollers (MCUs) with more memory, features and integration. TI's MSP430FR69x MCUs are scalable up to 128 KB non-volatile FRAM memory and include smart analog integration, such as an extended scan interface (ESI) and a differential input analog-to-digital converter (ADC) that consumes as little as 140 uA at 200 KSPS. Developers can also leverage the integrated 320-segment LCD controller to easily add a display to their products and a 256-bit advanced encryption standard (AES) hardware accelerator to increase security of data transmissions. This integration not only reduces overall power consumption, it minimizes product size by eliminating redundant components in systems.

TI's focus on optimizing its MSP430FR69x MCUs for ultra-low-power and high integration yields MCUs with the lowest active, standby and peripheral power in the industry. Unbeatable write speeds of MSP430FR69x FRAM MCUs and 10 billion times more write-erase cycles than flash solutions results in memory that can reduce power, increase data accuracy over time, and even extend product lifetime. FRAM offers unmatched memory flexibility, does not require pre-erasure of segments and can be accessed at the bit-level, enabling constant on-the-fly data logging and faster, simpler wireless firmware updates.

Leveraging MSP430FR69x FRAM MCUs for the smart grid
The integrated ESI module, differential ADC and LCD controller make MSP430FR69x MCUs ideal for smart flow metering designs for water, gas and heat. Adding TI's complementary SimpleLink™ Sub-1 GHz CC1120 transceiver, SimpleLink Wi-Fi CC3100 wireless network processor or Wireless M-Bus connectivity solutions can easily connect a new MSP430FR69x-based flow meter design to the grid. Power-conscious developers can also include TI's TPS61220 boost converter to optimize battery-powered systems. TI's new FlowESI GUI eases sensor setup in software and EnergyTrace++™ technology enables developers to debug power consumption at a function- and peripheral-level like never before. These resources help developers optimize their metering designs and speed time-to-market. Get flow metering designs started quicker with three comprehensive TI Designs based on MSP430FR69x MCUs that leverage the integrated extended scan interface module. These complete reference designs for water meters using inductive-capacitive (LC), giant magneto-resistive (GMR) or optical sensors include complete block diagrams, user guides, bill of materials (BOM), design files and test reports.

Features and benefits of TI's ultra-low-power MSP430FR69x MCUs:

-- Ease development with pin-to-pin compatibility and a scalable portfolio from 64 KB to 128 KB FRAM and more features within TI's FRAM MCU platform.
-- Experience the security advantages, including a 256-bit AES accelerator and an IP encapsulation module to protect data transmissions and IP, on MSP430FR69x MCUs. Fast write speeds and low peak currents provide security advantages for generating new security keys and the saving state information in the event of power loss.
-- Break down the barriers associated with traditional MCU memory technologies with FRAM's unbeatable write energy, write speed, endurance and flexibility.

Pricing and availability
MSP430FR69x MCUs are immediately available in production quantities for USD $4.50 in 1K units. Start designing with the design kit MSP-FET430U100D for $175 on TI's eStore or from authorized distributors. The EVM430-FR6989 flow meter evaluation kit will be available in October for $300.

Learn more about TI's ultra-low-power MSP430 FRAM MCUs

-- Learn about the ultra-low-power MSP430 FRAM MCUs platform.
-- Read more about the system advantages of mixed signal integration.
-- Learn more about TI's flow metering solutions.
-- The Official MSP430 Blog on TI E2E.
-- Ask questions and help solve problems in the MSP430 forum on the TI E2E™ Community.
-- Follow TI MCUs on Facebook: www.facebook.com/timicrocontrollers

Innovation is at the core of TI MCUs
Beginning with the foundation of leading process technology and adding unique system architecture, intellectual property and real-world system expertise, TI continues its 20+ years of MCU innovation with low-power and performance MCUs. With unique products for ultra-low power, low-power performance and security communications, to real-time control, control and automation, and safety, designers can accelerate time to market with TI's ecosystem of tools, software, wireless connectivity solutions, extensive Design Network offerings and technical support.

About Texas Instruments
Texas Instruments Incorporated (TI) is a global semiconductor design and manufacturing company that develops analog ICs and embedded processors. By employing the world's brightest minds, TI creates innovations that shape the future of technology. TI is helping more than 100,000 customers transform the future, today. Learn more at www.ti.com.

Trademarks
MSP430, SimpleLink and TI E2E are trademarks of Texas Instruments Incorporated. All registered trademarks and other trademarks belong to their respective owners.

CONTACT:
Mark Welsh, Golin
(972) 341-2513
mwelsh@golin.com

Randi Williams
Texas Instruments
(214) 567-4640
rwilliams@ti.com