Product News: Computer Hardware & Peripherals, Communication Systems & Equipment
Two-Way Active Monitor delivers clean sound at any volume.
Press Release Summary: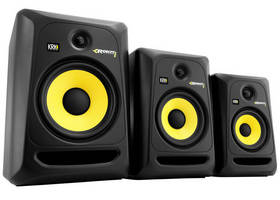 July 23, 2014 - Available with 5, 6, or 8 in. drivers, ROKIT G3 Series comprises 2-way active monitors with yellow composite woofer and 1 in. soft-dome tweeter. Latter provides response up to 35 kHz, while tuning process treats woofer, cabinet, and port as one integrated whole that provides optimized vocal clarity with extended bass response. A/B bi-amplification system maximizes headroom without increasing distortion, and high frequencies are crisp, transparent, and free of harshness.
Original Press Release
KRK Systems' ROKIT G3 Makes Summer NAMM 2014 Debut
Press release date: July 16, 2014
NASHVILLE — KRK Systems, a Gibson Brand, is presenting its new ROKIT Generation 3 Studio Monitor Series (ROKIT G3) for the first time at Summer NAMM 2014 (Booth 825). Drawing on its experience in designing monitoring solutions for professional recording studios, KRK Systems brings high quality sound to music fans, emerging recording artists and professionals with the ROKIT G3. Available with five-inch, six-inch, or eight-inch drivers, this line of two-way active monitors features multiple innovations that elevate KRK's legendary performance and further refine the company's design philosophy: deliver transparent, balanced spectral response, with ultra-low distortion and superior imaging.

The ROKIT G3 features a lightweight yellow composite woofer that achieves outstanding dynamics. Many monitor manufacturers compromise the midrange frequencies to hype the bass, but the KRK ROKIT G3's unique tuning process treats the woofer, cabinet and port as a single, integrated whole that provides extreme vocal clarity with extended bass response.

Furthermore, the ROKIT G3's enhanced class A/B bi-amplification system has been optimized to maximize headroom without increasing distortion. Unlike monitors that distort at higher SPLs, KRK monitors are engineered to deliver clean, accurate sound at any volume level; the high frequencies are crisp, transparent and free of harshness, which complements the detailed midrange and precise—yet highly satisfying—bass. The upgraded one-inch soft-dome tweeter provides response up to a staggering 35k Hz, while KRK's optimized, proprietary waveguide technology delivers superior stereo imaging with a wider "sweet spot."

The company will also highlight its ROKIT 10-3, a three-way mid-field monitor that provides an unsurpassed level of power, performance and accuracy; as well as the 10s, KRK's 10-inch powered subwoofer that is the perfect complement to the ROKIT series.

About KRK Systems
Over the past two decades, KRK Systems, part of the Gibson Pro Audio division, has become synonymous with quality design and unparalleled performance in the world of studio monitors, subwoofers and headphones. And because KRK has remained true to its mission of providing accurate and reliable studio monitors, as well as developed products that fit its customer's needs like a glove, the company occupies the industry's #1 position for studio monitors. With four series of monitoring systems (both passive and active, in a variety of sizes), KRK offers products that meet the diverse needs of home studios, professional studios, and audiophiles. For more information, visit www.krksys.com.

About Gibson Brands
Gibson Brands, one of the fastest-growing companies globally, was founded in 1894 and is headquartered in Nashville, Tennessee, USA. Gibson Brands has a portfolio of over a hundred well-recognized brand names for musical instruments, consumer electronics, and professional audio. In addition to the number one guitar brand, Gibson, other instrument brands include Epiphone, Dobro, Valley Arts, Kramer, Steinberger, Tobias, Slingerland, Maestro, Baldwin, Hamilton, Chickering and Wurlitzer. Professional audio brands include KRK Systems, TASCAM, Cerwin-Vega, Stanton and Cakewalk and continue Gibson's tradition of quality in their respective markets; while consumer electronics brands comprise Onkyo, Integra, TEAC and Esoteric.

Gibson Brands expanded further into the consumer market with the acquisition of Philips' Home Entertainment business—inventors of the cassette tape, as well as the CD, DVD, MP3, and MP4 formats. It shows the same leadership in technological innovation for the benefit of our customers under the Philips and Fidelio brand names.

A global company, Gibson Brands has manufacturing, marketing and research and development centers throughout the world. All Gibson Brands are dedicated to innovation, prestige, and improving their customers' quality of life. Visit Gibson's website at www.gibson.com. Follow Gibson Guitar at www.twitter.com/gibsonguitar and www.facebook.com/gibsonguitar.

CONTACT:  
Vanessa Bishop
D. Pagan Communications
631.659.2309
vanessab@dpagan.com