Product News: Controls & Controllers, Mechanical Power Transmission
Turbine Starter comes in inertia drive, pre-engaged models.
Press Release Summary: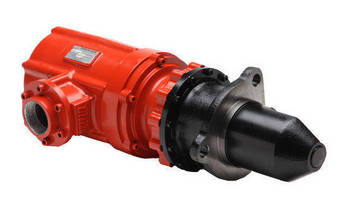 February 19, 2013 - Comprising industrial/marine turbine air and gas starters, PRQ Series includes PRQ200i inertia drive and PRQ200p pre-engaged models for diesel engines in 22–200 L range. Turbines come in right- and left-hand rotation to start counter rotating main propulsion engines and have bearing forward of pinion. Exhaust adaptor allows for direct replacement using certain competitive starter exhaust plumbing. Optional SuperTrapp-style muffler is available.
Original Press Release
POW-R-QUIK Introduces New Industrial Turbine Starter Series
Press release date: February 14, 2013
Cleveland, OH….POW-R-QUIK a division of Maradyne, A Dreison International Company, introduced a new edition to their PRQ series of industrial/marine turbine air and gas starters.  The new PRQ200i inertia drive and PRQ200p pre-engaged models round out the PRQ series for diesel engines in the 22 liter to 200-liter range.  The PRQ200 Series turbine comes in both a right & left-hand rotation to start counter rotating main propulsion engines. There is a low pressure model as well as the standard pressure model. The 200i inertia starter and the 200p pre-engaged model both have the bearing forward of the pinion.   An exhaust adaptor allows for direct replacement using certain competitive starter exhaust plumbing; so the inlet is a direct fit in many replacement situations.  An optional, unique feature is the SuperTrapp-style muffler that is small in size and doesn't decrease power.

The POW-R-QUIK starter family offers a full range of turbine and hydraulic starters for a variety of heavy-duty gas, oil, mining and marine applications.  The Pow-R-Quik brand is unequaled in the industry in terms of performance, reliability and quality. For more information please contact John Urbank at jurbank@maradyne.com.  http://www.powrquik.com/turbine-starters.html