Product News: Computer Hardware & Peripherals, Labels, Tags, Signage & Equipment, Printing & Duplicating Equipment
Thermal Transfer Printers mark electrical components.
Press Release Summary: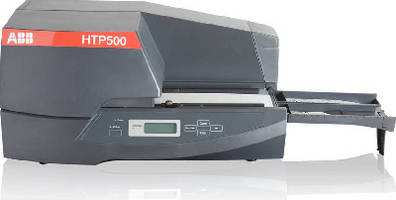 November 18, 2013 - Capable of printing 8,500 markers/hr in automatic mode, Model HTP500 V2 is suited for serial printing of plastic markers for terminal blocks, wires, and cables. Unit includes built-in USB port and automated stack feeder that accommodates up to 64 plastic marker cards. Measuring 382 x 230 x 230 mm, portable Model MG3 can print plastic markers and adhesive labels for terminal blocks, wires/cables, circuit breakers, and relays. Unit offers 12-sec print cycle and 300,000 marker per-ink-ribbon capacity.
Original Press Release
ABB Low Voltage Products Expands Line of Thermal Transfer Printers and Markers for Electrical Equipment Identification
Press release date: November 7, 2013
Thermal transfer provides high quality, durable printing on plastic markers and adhesive labels for terminal blocks and other panel components

NEW BERLIN, Wisc. – The ABB Low Voltage Products division has upgraded and expanded its lineup of high resolution thermal transfer printers and markers designed for producing high quality identification markings for terminal blocks, wires, cables and other equipment housed in electrical panels. The expanded product range features the second generation HTP500 V2 printer, upgraded with simplified installation and operational systems, and a 25% increase in speed, now able to print 8,500 markers per hour in automatic mode. New to the product line is the MG3, a compact, versatile printer that can be used in the workshop and easily transported into the field. A full line of plastic markers and adhesive labels is also available for both the HTP500 V2 and MG3 printers, covering the identification requirements for virtually all terminal block and electrical panel equipment components.

The marking equipment is targeted for panel shops, OEMs, electrical contractors and electrical distributors who must efficiently mark medium to high volumes of electrical components in a highly legible and durable manner.

Thermal transfer printing uses heat to transfer characters, symbols and even graphic images onto plastic markers and adhesive labels through an ink ribbon. The print quality (300 x 600 dpi) is extremely high, the ink dries instantly, and the markings maintain their resolution and stability indefinitely. The PC interface for both printers is compatible with all Windows fonts, and data can be imported from a variety of standard programs and formats.

"The HTP500 V2 and the MG3 are great additions to ABB's marking solutions lineup. They offer high quality printing and the flexibility to mark almost any electrical component," said Carolyn Johnson, ABB product group manager, connection and EPR products.  "The printing is extremely fast and requires no drying time, perfect for marking components in high volume applications. The wide variety of markers available gives ABB one of the broadest thermal printing portfolios in the market."

The HTP500 V2 is designed for high volume, serial printing of plastic markers for ABB terminal blocks, wires and cables. An automated stack feeder accommodates up to 64 plastic marker cards at a time, increasing operational convenience while printing 8,500 markers per hour in automatic mode. A built-in, completely plug-and-play USB port has simplified installation, providing immediate recognition and access to driver installations, preconfigured settings, and a more intuitive media library.

The compact, versatile MG3 can print plastic markers and adhesive labels for components made by ABB and other manufacturers, including terminal blocks, wires, cables, circuit breakers, relays, PLCs and contactors. A simple and intuitive PC based marker design software requires only basic computer skills to operate, and facilitates easy data entry and dynamic previewing to assure accurate marker printing. The portable design (382 x 230 x 230mm) accommodates use in crowded workshops or in the field, and the 12-second print cycle and 300,000 marker per-ink-ribbon capacity provides the ultimate in efficiency.

The full line of plastic markers includes versions to securely clip to the most widely used electrical components, and is available in complete cards, joined strips and individual markers.

For more information on ABB's line of high resolution thermal transfer printers and markers please call 888-385-1221 or click here.

About ABB
ABB (www.abb.com) is a leader in power and automation technologies that enable utility and industry customers to improve performance while lowering environmental impact. The ABB Group of companies operates in around 100 countries and employs about 130,000 people.

About ABB Low Voltage Products
The ABB Low Voltage Products division (www.abb.us/lowvoltage) manufactures low-voltage circuit breakers, switches, control products, wiring accessories, enclosures and cable systems to protect people, installations and electronic equipment from electrical overload.

Alex Miller 
262- 236-3710  
alex.x.miller@us.abb.com