Product News: Test & Measuring Instruments, Electrical Equipment & Systems, Sensors, Monitors & Transducers
Test Set predicts usable life of vacuum interrupters. .
Press Release Summary: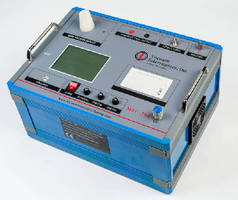 March 20, 2014 - Utilizing Penning discharge principal, MAC-TS4 Test Set can determine pressure inside vacuum interrupter and, along with wear and number of operations, predict usable life of interrupters used in circuit breakers and contactors. Magnetron atmospheric condition testing measures actual ion current against known values to determine internal pressure. Capable of testing interrupters in field, MAC-TS4 includes backlit LCD, detachable cable, built-in thermal printer, and PC compatibility.
Original Press Release
Vacuum Interrupters Introduces Third-Generation Test Set for Predicting Usable life of Interrupters in the Field, Shop at PowerTest 2014
Press release date: March 3, 2014
Carrollton, Texas – Vacuum Interrupters Inc. is proud to introduce its new MAC-TS4 vacuum interrupter tester, the only test set capable of conducting predictive testing on vacuum interrupters in the field, during the 2014 PowerTest Conference, the premier electrical maintenance and safety event.

"Utilizing the Penning discharge principal, our MAC-TS4 vacuum interrupter test set can easily determine the pressure inside a vacuum interrupter and; along with wear and number of operations, predict the usable life of the vacuum interrupters used in your circuit breakers and contactors," said Finley Ledbetter, CEO and chief scientist of Group CBS; Vacuum Interrupters is an affiliate company of Group CBS. "Until now, this type of testing could only be done at the assembly plant."

The MAC-TS4 is the third generation of the MAC product line. The MAC-TS4 uses magnetron atmospheric condition (MAC) testing to measure actual ion current against known values to determine vacuum interrupter internal pressure.  The MAC-TS4 test set can help avoid unnecessary damage to circuit breakers and contactors by identifying interrupters approaching an unsafe pressure.

Vacuum Interrupters' patented flexible magnetic field coil enables technicians to test most vacuum interrupters installed in the circuit breaker without having to remove the interrupter.

Until now, the only accepted field service test for vacuum interrupters has been a simple pass/fail test performed with an AC high potential (HiPot) test.  The MAC-TS4 is provided with everything required to determine the pressure of your vacuum interrupter the field, shop or lab. Newest features include back-lit LCD display, detachable high voltage cable, built-in thermal printer, and PC compatibility.  This PC friendly version can store hundreds of test results and allows the operator to download and generate reports. 

About Vacuum Interrupters, Inc.
Vacuum Interrupters, Inc., developer of the MAC vacuum interrupter test and circuit breaker timer (CBT) systems, provides replacement vacuum interrupters, pole assemblies, and replacement vacuum interrupter parts and components for virtually any manufacturer's medium-voltage circuit breaker or contactor. Vacuum Interrupters, Inc. is a privately owned company based in Carrollton, Texas. For more information, visit www.VacuumInterruptersInc.com, or call 214-442-5877.


Editorial Contact:
Winn Hardin
Hardin Business Communications
Tel: 904-246-8958
winn@hardinb2b.com