Product News: Computer Hardware & Peripherals
Tablet Computer is certified for hazardous locations. .
Press Release Summary: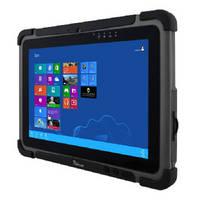 May 9, 2014 - Featuring Intel® Bay Trail 1.83 GHz quad-core N2930 processor and Windows® Embedded 8.1 OS, Model M101B is Class 1 Division 2 certified for HazLoc market. Tablet has 10.1 in., 700 nits IPS projective capacitive touchscreen, which is outdoor viewable and offers 1920 x 1200 pixel resolution. Weighing 2.6 lb, unit is equipped with hot-swappable battery for uninterrupted operation. Tablet includes 1D/2D barcode and RFID readers as well as 2.0 MP front camera and 5.0 MP rear camera.
Winmate Communication Inc.
Original Press Release
Winmate Releases Rugged Class 1 Division 2, 10.1-inch Windows 8 Tablet
Press release date: April 29, 2014
Winmate's new M101B is the first quad-core powered rugged tablet with Windows® 8.1 integration certified for safe operation in hazardous locales

IRVINE, CA  – Winmate, a global leader in developing advanced rugged mobile technologies, has released its newest tablet solution for the hazardous location (HazLoc) market with its Class 1 Division 2 (C1D2) M101B, a 10.1-inch, rugged, enterprise-ready Windows® 8.1 tablet. The new M101B is the first rugged, industrial-grade CPU featuring Intel's® latest quad-core Bay Trail processor and Windows® Embedded 8.1 operating system, that is certified safe for use in hazardous locations (HazLoc).

The C1D2 certification ensures the M101B is incapable of producing heat or spark sufficient to ignite explosive atmospheres where gases such as acetylene, hydrogen, esters and hydrocarbons may have accidentally entered the atmosphere. The rugged tablet meets regulatory compliance for use in industries such as oil and gas, manufacturing, mining, pharmaceutical, and others, where ignitable gases or vapor may be present.

"With its C1D2 certification, the M101B is the ideal solution for the HazLoc market as it combines the best features of our popular M970D with an advanced processor and graphics for unmatchable performance," said Khalid Kidari, vice president of Winmate. "This is the first rugged tablet to combine such an advanced processor, operating system and long-term support. It was developed as a mobile, enterprise-ready solution for industries ranging from transportation and logistics, supply chain, field service, warehouse, retail, and healthcare applications."

M101B's processing power comes from Intel's next-generation Bay Trail 1.83GHz quad-core N2930 processor paired with genuine Intel graphics resulting in high performance with low-power impact. The tablet features a brilliant 10.1-inch, 700-nits IPS (in plane switching) projective capacitive touch screen, which is outdoor viewable and offers 1920 x 1200 pixel resolution.

Weighing at just 2.6 pounds (approx. 1200 grams) the M101B delivers lightweight mobility in a rugged tablet. It is also equipped with a hot-swappable battery for uninterrupted operation, and features robust data capture with 1D/2D barcode and RFID readers, as well as a 2.0MP front camera for conferencing and a 5.0MP rear camera for additional data capture.

Protected against water, extreme temperatures, shock and dust, the M101B offers a more durable solution, enabling its use in even the most challenging environments. It is sealed to IP65 and meets MIL-STD-810G standards for shock, vibration and 4-foot drops to concrete.

The M101B also enables connectivity and reliable wireless communication, with 802.11 a/b/g/n Wi-Fi, Bluetooth 4.0, options for 3G or 4G LTE ready to operate on any carrier, and a highly accurate u-blox GPS. It ships standard with Windows® Embedded 8.1 operating system and a 64GB drive to support requirements in industrial applications.

In addition to the M101B, Winmate offers a suite of C1D2 certified solutions for the HazLoc market including its fixed-mount panel PCs.

More information: http://winmate-rugged.com/Tablets/M101B.asp

About Winmate
Founded in 1996, Winmate Communications Inc. is a Taiwan-based company and a global leader in developing advanced rugged mobile technologies for a variety of industries ranging from transportation and logistics, supply chain, field service, warehouse, retail, and healthcare. The company specializes in research and development, engineering and manufacturing to provide custom and enterprise-ready solutions. With offices in Irvine, Atlanta, Toronto, and China, Winmate services customers throughout the world. For more information, visit www.winmate-rugged.com.


Media Contact:
Beth Cochran 
beth@wiredprgroup.com
+1-602-758-0750